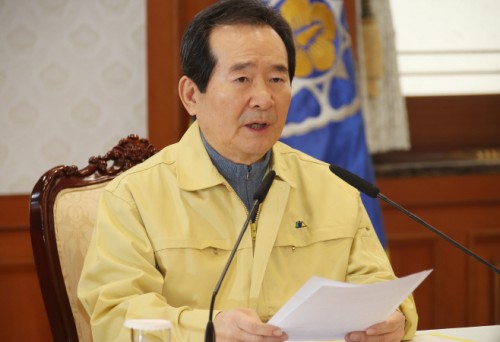 Prime Minister Chung Sye-kyun speaks at a meeting of national health and quarantine officials at the government complex in Seoul on Feb. 2, 2020./ Source: Yonhap News
By AsiaToday reporters Lee Seok-jong & Lee Seon-young
The government said Sunday it will bar foreigners who have been in China's Hubei Province, the epicenter of a new coronavirus outbreak, in the past two weeks from entering the country. The entry ban will go into effect on Tuesday. South Koreans returning from the virus-hit province will be required to spend 14 days in self-quarantine.
The decision came after national health and quarantine officials held a meeting chaired by Prime Minister Chung Sye-kyun to discuss measures against the novel virus at the government complex in Seoul on Sunday.
"We will bar foreigners who have in Hubei Province in the past two weeks from entering the country, starting on Tuesday," Chung said. "In the case of South Korean people, they will be required to spend 14 days in self-quarantine."
In addition, the government will temporarily suspend visa-free entry into Jeju Island. Those working in group facilities, such as workplaces, daycare centers and postpartum care centers who have been China will be excluded from work for 14 days.
"The government has prepared such measures to contain the spread of the virus in the country and the transmission to local communities with the priority on the lives and safety of the people," Chung said. "While maintaining the disease alert level on the virus at the second highest, we will make all-out efforts."
"As Prime Minister, I will practically supervise the response system that the Minister of Health and Welfare is currently in charge of," the prime minister added.
President Moon Jae-in held a meeting with infectious disease experts at Cheong Wa Dae on Sunday to discuss responses to the outbreak of the coronavirus.
So far, South Korea has reported three more cases of the virus as of 9 a.m. on Sunday. The number of confirmed virus cases in the country increased to 15, according to the Korea Centers for Disease Control and Prevention (KCDC).
The 13th confirmed patient is a 28-year-old Korean man, whom the government evacuated out of Wuhan along with 368 Koreans in the first chartered plane on Friday. The man had been initially moved to a makeshift quarantine shelter in Asan as he showed no symptoms upon arrival; however he was tested positive later. He has since been transported to the National Medical Center in Seoul and quarantined.
The 14th case is a 40-year-old Chinese woman who is a family member of the Chinese man diagnosed with the new coronavirus strain on Saturday. She was tested positive when being quarantined. The country's 15th case is a 43-year-old Korean man who arrived back home from Wuhan on Jan. 20 and was under observation.
As of Sunday, the death toll from the virus stands at 304 in China and one in the Philippines, which recorded the first death outside China.