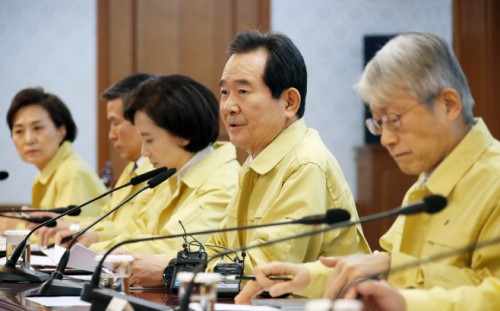 Prime Minister Chung Sye-kyun chairs an emergency ministerial meeting to tackle the spread of a new coronavirus at the government complex building in Seoul on Jan. 28, 2020./ Source: Yonhap News
By AsiaToday reporter Lee Seok-jong
The South Korean government has decided to send four chartered planes to the Chinese city of Wuhan, the epicenter of a new coronavirus, on Thursday and Friday to evacuate some 700 South Koreans who wish to return home. Those evacuees will be quarantined at a designated facility for at least two weeks upon arrival, which some experts say is the incubation period for the virus.
This decision comes after an emergency ministerial meeting chaired by Prime Minister Chung Sye-kyun at the government complex building in Seoul on Tuesday.
"We found out nearly 700 South Koreans residing in Wuhan city and the neighboring areas asked for seats on the evacuation plane," Lee Tae-ho, the second vice minister of foreign affairs, said in a briefing after the meeting. Lee said the government has decided to send chartered planes to Wuhan on Thursday and Friday and it is in talks with the Chinese government. "The specific dates of the flights may be adjusted according to the agreement with China," he said.
"Those returning home through chartered planes will be completely isolated while staying at a temporary facility to tackle the spread of the virus to the local community. The relevant ministries, such as the Ministry of Health and Welfare and the Ministry of the Interior and Safety, will cooperate closely and thoroughly," Lee added.
The government began the work to check around 3,000 passengers who have flown into the country from Wuhan since Jan. 14 in order to prevent the new coronavirus from spreading any further in the country. This is because many experts say the incubation period for the virus could be up to 14 days.
During a visit to a state-run hospital in Seoul, President Moon Jae-in ordered the government to make all-out efforts, saying, "On the government level, preemptive measures should be taken strongly and immediately enough to be regarded as rather excessive."
Moon also instructed the Korea Centers for Disease Control and Prevention (KCDC) to expand its workforce at the "1339" emergency call center for those who show symptoms of the disease.
According to the health authorities, the country has reported four confirmed cases of Wuhan coronavirus infection on Tuesday. It has inspected a total of 112 people who have shown symptoms, and it is looking into 15 people. The remaining 97 were released from isolation. The country has 288 special medical checkup centers.
The fourth confirmed patient has been staying in Pyeongtaek in Gyeonggi Province since his arrival on Jan. 20. The 55-year-old Korean confirmed to be infected on Monday has been in contact with 172 citizens. Of the people he has been in contact with, 95 people were classified as a "close contact."