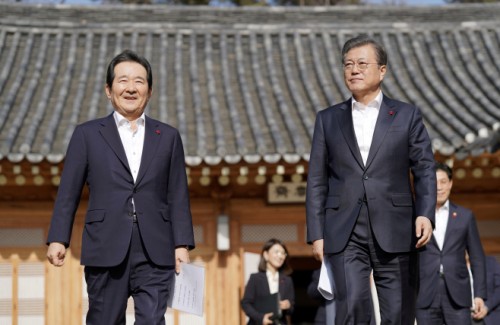 President Moon Jae-in and Prime Minister Chung Sye-kyun walk out of the Sangchunjae pavilion at Cheong Wa Dae after their first weekly meeting on Jan. 20, 2020./ Source: Cheong Wa Dae
By AsiaToday reporter Lee Jang-won
President Moon Jae-in and Prime Minister Chung Sye-kyun decided to maximize the effectiveness of regulatory sandbox to secure future growth engines through regulatory reform during their first weekly meeting on Monday. They agreed on the importance of easing regulations in solving issues and making innovations in the new industries.
During their 90-minute meeting, Moon and Chung exchanged ideas to revitalize the economy, hold social dialogue, and pursue cooperative governance of state affairs with parliament.
In particular, Moon urged Chung to raise the effectiveness and speed up the process of regulatory sandbox application booth of the Korean Chamber of Commerce and Industry (KCCI) to benefit the people and businesses. The government plans to open a regulatory sandbox application booth at the KCCI and establish a nationwide support network in February upon recommendation of KCCI chief Park Yong-man.
The new prime minister said his office plans to mobilize "every possible capability" to resolve the regulation-related problem in new industries such as big data, bio-health and sharing economy. For this, Chung said he plans to actively mediate conflicts and advance the regulatory sandbox. He also stressed the need for changes in public officials' mindset and practices to succeed in efforts to remove outdated regulations and innovate the administrative mechanism.
As he previously stated at his inauguration, Chung pledged a government supportive of the people and stressed his goal of becoming a prime minister for the economy, national integration and innovation. As for key tasks for the government, he stressed the need to boost economic vitality by carrying out regulatory innovation and making business-friendly environments, resolving social conflicts based on governance model and strengthening national unity through active communication among the ruling party, the government, and Cheong Wa Dae, and reforming the public sector.
Chung then unveiled his plan to introduce the so-called Thursday dialogue with representatives from various sectors such as business, labor and political circles as part of efforts to resolve social conflicts.
Moon welcomed the prime minister's plan to meet them every Thursday, saying, "I hope that the Thursday dialogue becomes a new model for cooperative politics and communication." The president asked the new prime minister to lead the Thursday dialogue well with commitment."
Cheong Wa Dae unveiled the results of the weekly consultation in a rare move, as the president is seeking to give Chung more authority over state affairs.