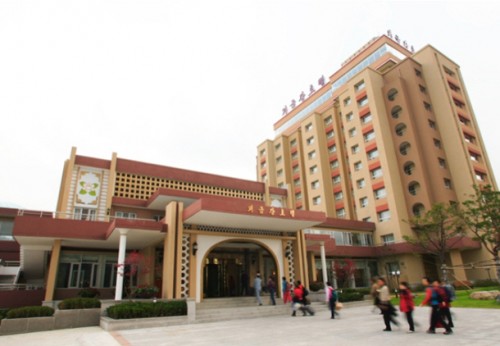 Hotel Oekumgang near Mount Kumgang/ Source: The Ministry of Unification
By AsiaToday reporter Lee Jang-won
The government is pushing to start individual tours to North Korea. Observers claim that the government has started to prepare for the project as it is possible to access a North Korea tour-related website as of Jan. 19. Many are concerned about a conflict with the United States who is questioning the implementation of sanctions against the North. If they are actually taking place, the most urgent task would be to come up with measures to ensure the safety of the Korean people.
It has been confirmed on Sunday "DPR Korea Tour", a tourism website operated by North Korean tourism bureau, is accessible in South Korea. This is unusual given that South Korean government blocks sites operated by the North Korean government. Attention is now drawn to what lies beneath the government's unblocking of the sites amid its push for inter-Korean projects.
The government has announced its intention to actively seek inter-Korean projects, especially individual tours that are not basically specified under UN sanctions, after President Moon Jae-in floated the idea in a New Year's press conference on January 7. When U.S. Ambassador to Seoul Harry Harris touched off a controversy by calling on the South to consult closely with America about its plan, the presidential Cheong Wa Dae and the Unification Ministry pushed back firmly Friday on his comments and formalized its inter-Korean exchange project.
However, consultations with the United States are required to prevent misunderstandings. Although, tourism itself is not specified under sanctions, finer details could matter in terms of what kind of objects can be brought in and what tourists can take with them. In addition, crossing the inter-Korean military demarcation line (MDL) requires prior coordination with the United Nations Command.
The Unites States has not presented its position clearly on individual tours to the North. U.S. State Department spokesperson Morgan Ortagus welcomed the South Korean government's contribution to advancing North Korean denuclearization, but avoided commenting on individual tours, the VOA reported Saturday. Regarding Harry Harris, Ortagus said he has the full confidence of the State Department.
The South Korean government insists that there is no crack in cooperation with the United States. South Korea's top nuclear envoy Lee Do-hoon, who visited Washington, said he has reaffirmed the support of the US government and that he is willing to carry out consultation quickly.
The government plans to allow South Koreans to travel to the North if they obtain a visa from Pyongyang. It is also studying ways to allow South Koreas participate in North Korea touring programs of a third country such as China. However, it remains uncertain whether North Korea will respond to the South's proposal. North Korea has demanded that South Korea remove its facilities from its Mount Kumgang resort while refusing to talk with the South Korean government.
If the North allows South Korean tourists, the most important issue to be solved would be guaranteeing the safety of tourists. Substantial safety measures and North Korea's promise to prevent recurrence of incidents, such as the death of U.S. college student Otto Warmbier, are required.