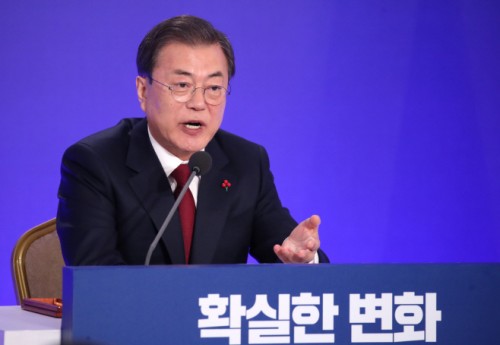 President Moon Jae-in speaks during a news conference for the new year at Cheong Wa Dae in Seoul on Jan. 14, 2020./ Source: Yonhap News
By AsiaToday reporter Lee Seok-jong
President Moon Jae-in called for Prosecutor General Yoon Seok-youl to join his prosecutorial reform drive. "I believe that Yoon would receive much more trust from the public if he takes the lead in correcting the prosecutors' organizational culture and investigative practices," Moon said in his televised New Year's press conference at Cheong Wa Dae
"Prosecutor General Yoon has already won the trust of the public by conducting impartial investigations and investigations that don't bend to authority," he said.
"The people are demanding reform in the prosecution because they feel that prosecutors have failed to restrain their investigative authority, tried to play public opinion by publishing facts about the accused, and exercised authority that exceeds the law," Moon said. "If the prosecutors humbly recognize this, I think it could be a great help in quickly achieving prosecutorial reform."
The president stressed that prosecutorial reform is possible only if the prosecutors push for self-reform and that chief prosecutor should take the initiative in reforming investigative practices and the culture of his organization.
Regarding the recent reshuffle of top prosecutors, the president said, "The prosecution has the right to investigate, but the justice minister and the president have the right to appoint the people to carry out the investigation. Just as the chief prosecutor's right should be respected, so should the president's and minister's rights."
"The Minister of Justice gave the chief prosecutor a chance to express his opinion. But it is highly inappropriate for the top prosecutor to ask the minister first to present the list of prosecutors to be reassigned," he said. "But I don't want to judge Yoon by one thing."
On the domestic political front, the president said he is open to having Cabinet members from the opposition bloc who are willing to work with him after the general election. "We can work with people who do not share the same philosophy in state affairs as long as they agree with policy objectives of corresponding ministries," Moon said.
Regarding constitutional amendment, the president said, "It is up to the parliament to revive the momentum to pursue it. If lawmakers push once again a constitutional amendment during the next National Assembly, I will review it based on public opinion and make a decision."
On the issue of the Korean Peninsula, Moon said, "There is a heightened need for South Korea to enhance inter-Korean cooperation and promote North Korean-U.S. talks, rather than sitting idle waiting for Pyongyang-Washington dialogue to bear fruit." He said that if any inter-Korean efforts require an exemption from U.N. sanctions, his administration can work to address it.
Moon stressed the need to expand inter-Korean cooperation, saying there is room for the two Koreas to work together within the boundaries of international sanctions.
"There are some inter-Korean projects that are not blocked by the restrictions, including border-area cooperation and tourism," he said. The president also suggested sports exchanges such as fielding combined teams for upcoming Summer Olympics in Tokyo, and a joint bid for the 2032 Games.