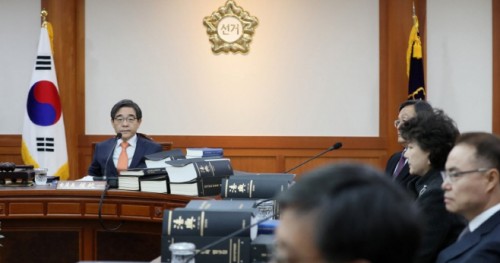 National Election Commission Chair Kwon Soon-il attends a plenary session with the commission members at the NEC headquarters in Gwacheon, Gyeonggi Province, on January 13, 2020./ Source: Yonhap
By AsiaToday reporter Lim Yoo-jin
The National Election Commission (NEC) has finalized its decision and disapproved creating a new party with name that is likely to be confused with the names of existing parties. The NEC made such decision in a plenary session on Monday since it could distort the public's political will.
The election watchdog held the plenary session at the NEC headquarters in Gwacheon, Gyeonggi Province, and finalized its decision. "The Article 41 of the Political Party Law states that the name of a political party must be clearly distinguished from the name already used by registered parties. This is to avoid voters' misunderstanding and confusion of party identity which can lead to distortion of the public's political will," the NEC said.
"Consideration should be given whether the name of a party plays an important part for voters to get confused with existing parties. In addition, the process of exercising voting rights, election campaigns of political parties and candidates, and the media environment should be comprehensively taken into consideration," the NEC said.
"Literally, the term 'proportion' hardly implies any values, such as party policies and political beliefs. It cannot be seen as having an important meaning on its own. The combination with the world 'proportion' does not create a new concept that is distinct from a party that is already registered."
"In the process of voting, voters might recognize the meaning of 'proportional' of the proportional party as the same party that recommended the regional candidate through the contents of the proportional representation ballot paper given to them, creating the so-called halo effect," the NEC said.
"If a new party bears the name of existing parties with an additional term proportional, voters are likely to get misunderstood and confused with existing parties through media outlets, social media, and YouTube as well as election campaigns," it said.
The NEC said if it approves creating a satellite party that uses the term 'proportional,' voters may get confused, distorting the political will of the people and therefore undermining election order.
The NEC's decision is a blow to the main opposition Liberty Korea Party (LKP)'s plan to create a satellite party dubbed 'Proportional Liberty Korea Party' in a bid to use recent electoral revisions focused on the adoption of mixed member proportional representation ahead of the general elections. Rival parties gave mixed responses to the NEC's decision. "Creating a party that uses similar-sounding name to the existing party's for the purpose of causing national chaos makes politics ridiculous," DP floor leader Lee In-young said. "It is a degenerative political act that shakes the spirit and intent of introducing mixed member proportional representation system."
On the other hand, the LKP criticized the NEC's decision. "By disapproving the creation of new parties that bear the name or similarities of existing parties, the NEC has proved itself as a servant of the government," LKP floor leader Shim Jae-chul said. "The LKP will hold the NEC to account until the end."