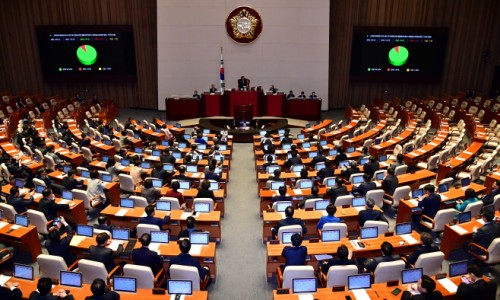 A plenary session of the National Assembly/ Photographed by Song Eui-joo
By AsiaToday reporter Lim Yoo-jin
The National Assembly will hold a plenary session on Monday to deal with a revision of the Criminal Procedure Act, a revision of the Prosecutors' Office, three kindergarten-related bills, and a motion to confirm the appointment of Chung Sye-kyun as the new prime minister. In this case, the fast-track dispute will finally come to an end, and South Korean parties will gear up for the April 15 general elections.
The ruling Democratic Party (DP) plans to vote on the appointment of candidate Chung Sye-kyun after voting on the bill to revise the Criminal Procedure Act first. The revision of the Criminal Procedure Act, which was submitted to the plenary session on Thursday, can be voted on immediately as the main opposition Liberty Korea Party (LKP)'s filibuster ended.
The motion to confirm Chung's appointment is expected to be presented to the plenary session by National Assembly Speaker Moon Hee-sang's authority following a disagreement between the ruling and opposition parties. The DP believes the motion will pass smoothly as long as the cooperation with a four-plus-one consultative group of representatives from the ruling DP, three minor parties and one splinter group is maintained. Subsequently, the revision of the Prosecutors' Office is likely to be presented at the plenary session. However, the three kindergarten-related bills are likely excluded from voting as there are different opinions within the four-plus-one framework. If the LKP stages a filibuster, the DP is considering reducing the term of a provisional session, which begins on Monday, into one day.
The ruling and opposition parties clashed over the prosecution reform day before the plenary session. "The LKP, which has driven the National Assembly into violence and cruelty with extreme political war, has only one day to show that it has changed its stance completely," DP spokesman Lee Hae-sik said.
On the other hand, the LKP plans to file a complaint with the Supreme Prosecutors' Office, following its motion submission to impeach Justice Minister Choo Mi-ae. "I will accuse Minister Choo and Lee Seong-yun, the chief of the Justice Ministry's criminal affairs bureau, to the Supreme Prosecutors' Office for abusing their power," LKP lawmaker Joo Kwang-deok said.
The rival parties plan to gear up for the general election after the plenary session on Monday. The DP has completed to form its nomination management committee, which will be chaired by five-term lawmaker Won Hye-young. It plans to announce the party's general election pledges on Wednesday. The pledges will focus on housing for young people, employment and tax benefits related to new industry development for innovative growth. DP Chair Lee Hae-chan is expected to announce the party's strategy for the general elections around Thursday.
The LKP is preparing to join forces, hoping to build a unified conservative bloc. It recently launched the so-called innovative integration committee, in which new Conservatives as well as Centrists participate.