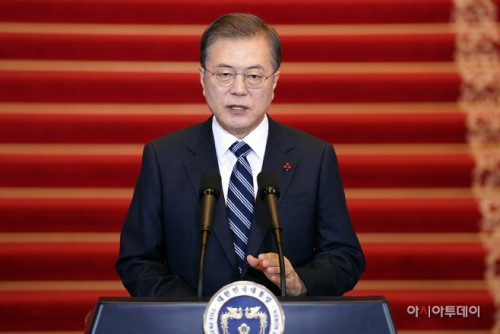 President Moon Jae-in delivers a New Year address at Cheong Wa Dae on Tuesday./ Source: Cheong Wa Dae
By AsiaToday reporter Lee Seok-jong
President Moon Jae-in suggested that the two Koreas make joint efforts to create conditions for North Korean leader Kim Jong-un's reciprocal visit to South Korea as early as possible. In his televised New Year's speech on Tuesday, Moon expressed his strong will to enhance inter-Korean cooperation to improve relations so that Kim can visit to Seoul as agreed at the Pyongyang Summit in September 2018.
The president vowed to explore ways to further promote inter-Korean cooperation during his fourth year in office, citing concerns about a stalemate in Pyongyang-Washington talks. It indicates that Moon is seeking to play a more active role as a driver and promoter for denuclearization and peace process on the Korean Peninsula.
In addition, Moon promised the South Korean people that his administration will strive to build a country of co-existence and co-prosperity based on innovation, inclusion, fairness and peace.
Regarding peace and prosperity on the Korean Peninsula, Moon said, "We need an international solution to keep the three principles for peace on the Korean Peninsula: zero tolerance for war, a mutual security guarantee, and co-prosperity. However, there are things that the two Koreas can do through inter-Korean cooperation. I propose that the South and the North put heads together to have a serious discussion together."
"I am willing to meet and talk constantly," he said. "I will continue my efforts to resume the Kaesong Industrial Complex and the tours to Mount Kumgang," he added. The president repeatedly stressed the willingness to promote various inter-Korean projects, such as launching cooperation in border regions, sports exchange, reconnecting roads and railways, and transforming DMZ into an international peace zone.
Moon put his top economic priority on stepping up a drive for innovation. "I will work hard to revitalize the economy by further strengthening innovation." The government plans to boost three new industries - system semiconductors, bio-health, and future car – as the second and third semiconductor industries, while helping nurturing data, network and artificial intelligence industries in the era of the Fourth Industrial Revolution, according to Moon.
To create a better corporate investment environment, Moon said the government will operate large investment projects worth 100 trillion won (US$86.5 billion) and strengthen investment incentives.
On inclusion policy, the president said the government will make sure that people can clearly feel the changes. "I will make the people's lives warmer by embracing them in every corner of society."
Moon said the government will pay attention to increasing employment among those in their 40s, and the manufacturing sector. "We will create tailored comprehensive measures for retirees and job seekers in their 40s, and strengthen regulatory innovation and investment incentives to create more jobs for the private sector," he said. The president also promised to support the establishment of reduced working hours and increased minimum wage in small- and medium-sized enterprises with less than 300 employees.
The president stressed the importance of fairness. "Fairness is the air that surrounds our economy and society. Fairness should be the base for innovation and inclusion."