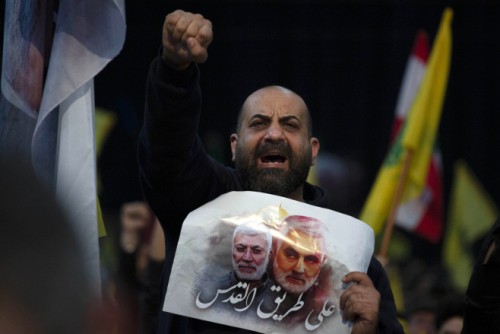 A supporter of Hezbollah leader Hassan Nasrallah chant slogans in a Southern Beirut, Lebanon, Jan. 5, 2020, following the US airstrike in Iraq that killed Iranian top Gen. Qassem Soleimani./ Source: Beirut AP=Yonhap News
By Washington correspondent Ha Man-joo & reporter Lee Jang-won
The situation in the Middle East is like the calm before the storm.
Amid heightened tensions between Washington and Tehran, Iran has announced Sunday that it will withdraw from the Joint Comprehensive Plan of Action (JCPOA), commonly known as the Iran nuclear deal.
As the situation in the Middle East has become more severe, the Cheong Wa Dae held an emergency National Security Council (NSC) session Monday to discuss countermeasures against the current Iran crisis. The session focused on seeking ways to protect South Korean people in the Middle East and minimize the impact of oil price instability on the domestic economy.
Since the possibility of Iran attacking US allies could not be ruled out, the NSC members also had an in-depth discussion over whether to dispatch South Korean troops to the Strait of Hormuz. The South Korean government kept a cautious attitude, saying, "We are reviewing various ways to contribute to the protection of ships and people, but nothing has been confirmed yet."
"The Islamic Republic of Iran will end its final limitations in the nuclear deal," the Iranian government said in a statement. "Therefore Iran's nuclear program will have no limitations in production including enrichment capacity and percentage and number of enriched uranium and research and expansion."
The move comes two days after the US' assassination of Iran's Quds Force Commander Qassem Soleimani in Iraq early Friday. It's been almost two years since US President Donald Trump unilaterally withdrew from the deal in May 2018, claiming that the deal was ineffective and that Iran supported terrorist organization Hezbollah.
The Obama-era deal, which was made between the US, Iran, Britain, France, Russia, China, Germany and the European Union in July 2015, has virtually broken down in four and a half years after the withdrawal of the two main countries, the United States and Iran.
However, the announcement does not mean Iran is fully scrapping the deal, Iranian foreign minister Javad Zarif said. Iran will continue to allow the International Atomic Energy Agency (IAEA) to review its nuclear research, and would be willing to rejoin the agreement if sanctions against it are removed, according to Zarif.
In this situation, Trump tweeted Sunday, "These media posts will serve as notification to the United States Congress that should Iran strike any US person or target, the United States will quickly & fully strike back, & perhaps in a disproportionate manner."
"Such legal notice is not required, but is given nevertheless," he added.