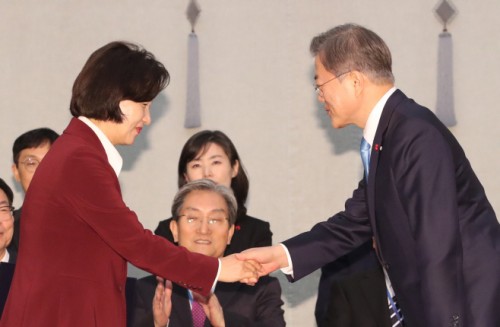 President Moon Jae-in shakes hands with new Justice Minister Choo Mi-ae after delivering the letter of appointment at Cheong Wa Dae on Thursday./ Source: Yonhap News
By AsiaToday reporter Lee Seok-jong
President Moon Jae-in on Thursday vowed to complete reform of power institutions including prosecution overhaul as one of his top priorities. He expressed his strong will to speed up prosecution reform with the establishment of an independent unit to investigation corruption by high-ranking officials and the appointment of Choo Mi-ae as justice minister.
"No power institutions can exist above the people," Moon said during his speech at a New Year event at the Korea Chamber of Commerce and Industry (KCCI) headquarters in Seoul. "I will not stop carrying out legal and systemic reforms until power institutions earn the public's trust."
The president showed strong commitment to prosecution reform, rather than economic matters, at a gathering attended by a large number of business leaders. It indicates that the president believes prosecution reform is urgent.
""I will make clear change in the New Year. The reform of powerful institutions and fair society reform are the beginning of the process," Moon said. "I expect power organizations to take the initiative for self-reform on their own."
"As the president elected by the people, I will fully exercise my authority in accordance with the Constitution," he said. "I won't stop legal and systemic reform."
Regarding fairness of the society, Moon said, "The government has recognized the high demands of people, especially young people, who desire the same opportunities and fair competition. We will certainly respond to them." The president vowed to make fairness take root in the society.
"We will address unfairness in all areas of society from education and employment to taxation, military service and the workplace," Moon said.
During Choo Mi-ae's appointment ceremony, the president cited a law stipulating South Korea's justice minister as the "final supervisor" on state prosecutors' office work. "I hope you will lead prosecution reform works well," Moon told Choo.
"The prosecution reform begins with innovative changes in the way prosecutors conduct probes, related practices and the internal culture of the organization," he said. "I request you to pay attention to various reform measures prepared by the Ministry of Justice and the prosecution, such as human rights protection regulations and protection rules."
"The most important thing in the prosecution reform is that prosecutors should take the initiative for self-reform on their own," Moon said. "In that sense, I recommend that you keep in tune with prosecutor general."