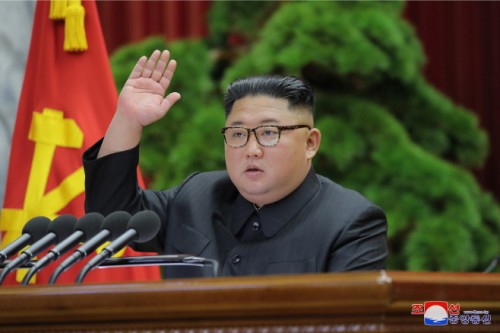 North Korean leader Kim Jong-un attends the 5th Plenary Meeting of the 7th Central Committee of the Workers' Party of Korea (WPK) in the photo released Dec. 31, 2019, by North Korean Central News Agency (KCNA)./ Source: Yonhap News
By AsiaToday reporter Lee Seok-jong
North Korea has threatened to introduce a new strategic weapon, proclaiming that Pyongyang will pursue a frontal breakthrough as a new path for 2020. In response, the South Korean government expressed concern that a strategic weapons test "will not help with nuclear negotiations and efforts to settle peace on the Korean Peninsula." The United States warned not to cross a "red line", saying it hopes to take a "different path."
While the North threatened that it will take a "shocking action," it left the door open for dialogue, saying the scope of upping the North's nuclear deterrents will depend on the US' attitude.
Some experts say that the new strategic weapon signaled by the North refers to either multiple-warhead intercontinental ballistic missiles (ICBMs) or submarine-launched ballistic missiles (SLBMs). They say Pyongyang could carry out a major provocation in March when Seoul and Washington conduct one of their annual joint exercises.
However, other experts believe the North's message is aimed at urging Washington to engage more actively in dialogue and that the North would not lead to actual military provocations, such as test-firing ICBMs.
According to North Korea's state media Korean Central News Agency (KCNA) on Wednesday, North Korean leader Kim Jong-un said the "road of defending ourselves by bolstering up our power sufficiently enough to keep the hostile forces at bay so that they would not dare provoke our sovereignty and security is one to be covered by us without any halt and hesitation" at the 5th Plenary Meeting of the 7th Central Committee of the Workers' Party of Korea held on Dec. 28-31.
"Due to gangster-like acts by the United States, our external environmental hasn't changed from when we took the byungjin line to now when our efforts are focused on economic development," the North Korean leader said. "In the face of increasing hostility and nuclear threats, we cannot give up the security of our future just for visible economic benefits."
Kim also said the North will push forward more actively with developing strategic weapons, saying, "The world will witness a new strategic weapon possessed by DPRK in the near future."
"There is no need to hesitate with any expectation of the US lift of sanctions," Kim said. "There will never be denuclearization on the Korean Peninsula if the US persists in its hostile policy towards the nation."
"The DPRK will steadily develop necessary and prerequisite strategic weapons for the security of the state until the US withdraws its hostile policy towards the DPRK and lasting and solid peace regime is established on the Korean Peninsula," Kim said.
However, Kim said, "The scope and depth of bolstering our deterrent will be properly coordinated depending on the US' future attitude to the DPRK."
Kim did not give any details of the new strategic weapons, however experts suggested the possibility of launching either multi-warhead ICBMs or SLBMs.