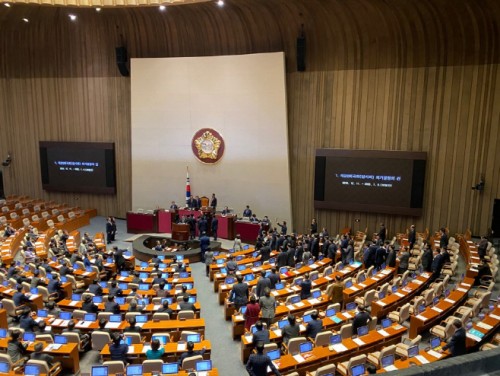 Lawmakers from the main opposition Liberty Korea Party (LKP) protest as Speaker Moon Hee-sang presides over a plenary session to deal with contentious bills to revise electoral rules at the main chamber of the National Assembly on Dec. 23, 2019./ Photographed by Kim Yeon-ji
By AsiaToday reporter Lim Yoo-jin
The National Assembly will hold a plenary session on Monday at 10 am to vote on another contentious fast-tracked bill aimed at establishing an independent body tasked with investigating corruption of high-ranking officials.
The anti-corruption investigative body bill is expected to be passed easily amid fierce opposition from the main opposition Liberty Korea Party (LKP), since the four-plus-one coalition holds a majority of parliamentary seats. However, it remains to be seen whether an amendment proposed by Rep. Kwon Eun-hee of the Bareunmirae Party on Sunday to the single draft of the anti-corruption investigative body bill of the four-plus-one coalition will bring changes to the voting.
The ruling Democratic Party (DP) plans to pass the bill immediately in a new extraordinary parliamentary session on Monday, and continue its strategy of dividing a session into several days. "I hope the legal procedures to launch an independent investigation body be wrapped up at the extraordinary session beginning on Monday," DP floor leader Lee In-young said Sunday at a press conference. "If we cannot complete the prosecution reform, Republic of Korea will become 'Republic of Prosecution.'"
As the filibuster filed by the LKP ended at midnight Saturday when the extra parliamentary session ended, the investigation body bill can be put to vote immediately when a new extra session is convened on Monday. The DP plans to push ahead with other prosecution reform bills by using the so-called 'salami strategy' of dividing a session into three to four days.
The governing party is focusing on maintaining cooperation with the four-plus-one alliance. There is no problem in holding enough parliamentary seats to pass a bill, however some lawmakers of the coalition as well as the governing party itself have voiced opposition to the bill.
Following the ruling party's move, the LKP intensified criticism of the DP and National Assembly Speaker Moon Hee-sang. The LKP is considering taking legal measures, such as submitting a resignation resolution and filing a complaint against the speaker, claiming that Moon violated the National Assembly Act when the electoral reform bill was introduced.
The LKP also made efforts to widen a gap among the four-plus-one coalition members to overcome numerical inferiority. "I am aware that there are a significant number of lawmakers within the four-plus-one coalition frame who are opposed to the unjust bill. I ask them to act responsibly and follow their conscience," LKP floor leader Shim Jae-chul said at a press conference.
LKP Chairman Hwang Kyo-ahn, who was hospitalized on Tuesday for deteriorating health after staging a sit-in at the National Assembly for weeks, was discharged on Saturday. He plans to return to the office by presiding over a meeting of the supreme council of the party on Monday.