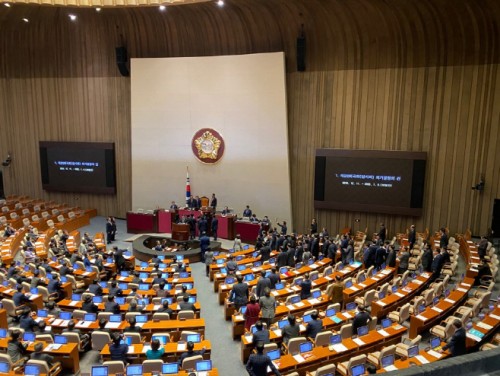 Liberty Korea Party lawmakers protest as National Assembly Speaker Moon Hee-sang opens a plenary session at the National Assembly on Dec. 23, 2019./ Photographed by Kim Yeon-ji
By AsiaToday reporter Lim Yoo-jin
Rival parties continued their 'filibuster' confrontation on Wednesday over a fast-tracked electoral reform bill. The filibuster automatically ended midnight Wednesday, when the extraordinary parliamentary session ended. The National Assembly will begin a process to deal with the electoral reform bill.
The ruling Democratic Party (DP) convened a new extraordinary session on Thursday. However, a plenary session and a parliamentary vote are expected to be held on Friday. The voting deadline for the impeachment bill against Deputy Prime Minister and Minister of Economy and Finance Hong Nam-ki proposed by the LKP is Thursday. The DP is expected to push ahead with opening a plenary session on Friday to prevent votes.
Fierce protests from the LKP over the passage of the electoral reform bill seem to have played a role on both DP and LKP to take some time before having negotiations. As filibuster debate continued for the third consecutive day, the National Assembly Chairman as well as lawmakers keeping their seats at the National Assembly are likely to take a day off before opening a new plenary session to precede the vote. However, the four-plus-one consultative body – a group of lawmakers from the DP and four minor opposition parties excluding the LKP – may hold a plenary session on Thursday and put the election bill to a vote immediately.
The DP is reportedly planning to conduct negotiations with the LKP under the table over the opening time of a plenary session until Thursday morning. Internally, the governing party is considering dividing a plenary session into several days. Currently, the DP is using a strategy of dividing an extraordinary parliamentary session into three days to deal one deal at one session to minimize the LKP's filibuster. Considering the fact that such strategy is making the ruling and the opposition parties extremely tired, the DP is reviewing ways to divide sessions into less than the current three days. "Dividing a session into three days made both the DP and the LKP tired," an official from the DP said. "We should finish it by the end of this month, but we have to continue until early January."
As the election bill process has begun its countdown, the political confrontation is intensifying. While the LKP staged a filibuster to oppose the election bill, the DP and the Justice Party also used a filibuster to support the bill. While seats at the plenary session were mostly vacant, lawmakers gave a speech over several hours, creating a rare sight. The LKP faces severe criticism for filing to use a filibuster on not only the election bill, but also other key bills including those on reforming the state prosecutors' office and three kindergarten bills. The party is free to use a filibuster to prevent the passage of a specific bill opposes, however many point out that no party should abuse the tactic when it lacks persuasive reasons.