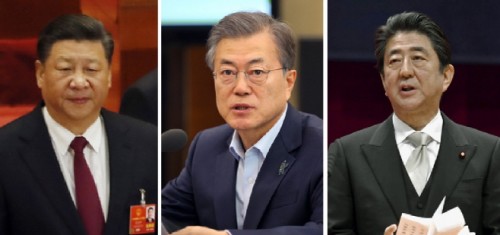 President Moon Jae-in, Chinese President Xi Jinping (left), and Japanese Prime Minister Shinzo Abe (right)/ Source: Yonhap News
By AsiaToday reporter Lee Jang-won
President Moon Jae-in embarks on a China visit for a series of meetings with the leaders of China and Japan, which will be a major watershed moment for the Korean Peninsula. It is a matter of great concern whether Moon and Chinese President Xi Jinping would come up with a solution to the Korean Peninsula issues as North Korea threatened to give the United States an ominous "Christmas gift" earlier this month if Washington does not give ground by the end-of-year deadline set by Pyongyang. This week will be a significant moment to resume peace process on the Korean Peninsula through improved relations among South Korea, China, and Japan. In addition, attention is now focused on how to solve major pending issues between Seoul and Tokyo, such as export controls, GSOMIA, and compensation for forced labor.
Moon will hold bilateral talks with Chinese President Xi JInping in Beijing on Dec. 23 ahead of the 8th trilateral summit with Chinese Premier Li Keqiang and Japang Prime Minister Shinzo Abe in the Chinese city of Chengdu. Following the trilateral summit, Moon will hold bilateral talks with Abe on Dec.24.
During his meeting with Xi and Li, Moon is expected to call China's "responsible brother role" on North Korea, which threatened to resume nuclear and long-range missile tests with its two tests at Dongchang-ri launch site unless the U.S. offers concessions to break the deadlock in their stalled nuclear talks by the year-end. If the leaders of South Korea and China speak with one voice on this matter, observers predict that it could prevent North Korea's end-of-year provocations and promote nuclear talks between Washington and Pyongyang. The two leaders will also discuss ways to fully normalize bilateral relations that have not been fully recovered after the THAAD row. Xi's visit to Seoul next year could possibly arranged during the talks.
Moon will hold bilateral talks with Abe on Tuesday. The two leaders will put their heads together to resolve conflicts between the two countries over forced labor compensation issue and Japan's export restrictions against South Korea. On December 20, Japan partially lifted restrictions on exports of photoresist to South Korea, showing a relatively flexible attitude for the first time since the South Korean government's decision to conditionally suspend the termination of the Seoul-Tokyo military information-sharing pact. It is noteworthy whether Moon and Abe will speak openly and seek a solution to the key issue of a wartime labor compensation dispute.
The North Korean denuclearization issue is also a major issue at the Korea-Japan summit. Trump held a phone conversation with Japanese Prime Minister Shinzo Abe on Saturday and agreed to continue close communication and coordination against recent threatening statements by North Korea. Moon will call for Japan's support for the Korean Peninsula policy and strengthen cooperation with China and Japan in pursuing peace process on the Korean Peninsula. At the trilateral summit with Li and Abe on Tuesday, Moon will discuss Northeast Asian issues as well as ways to strengthen practical cooperation between the three countries.