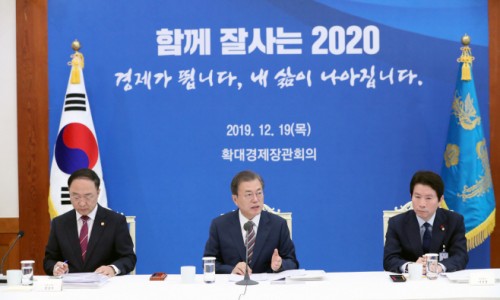 President Moon Jae-in speaks at the expanded meeting with economy-related ministers at Cheong Wa Dae on Dec. 19, 2019./ Source: Yonhap News
By AsiaToday reporter Cho Sang-eun
The government will encourage investments of up to 100 trillion won in a bid to prop up the slowing economy.
At an economy-related ministers' meeting led by President Moon Jae-in on Thursday, the government announced its 'Economic Policy Direction' for 2020.
The government's economic policy direction for next year is focused on boosting economic growth and strengthening growth potential.
This indicates that the South Korean economy is facing many challenges.
"The sluggish private investment and exports delayed improvement of economic constitution and structural reforms, leading to a slowdown in economic growth," Deputy Prime Minister and Finance Minister Hong Nam-ki said.
As the Moon Jae-in administration enters the second half of the five-year term next year, there is growing awareness that it is urgent to achieve economic recovery.
In this regard, the deputy prime minister stressed that it is an important moment to prepare for the economic leap next year.
This is why the government put 'investment' on the priority list for next year's economic policy direction.
First of all, the government will encourage investments of up to 100 trillion won from both the public and private sectors. It will spend 23.2 trillion won next year to improve social infrastructure, especially in the field involving people's safety.
It plans to allocate 62 percent of the 2020 budget of 512.3 trillion won in the first half of next year to prop up the slowing economy.
The government also plans to provide tax breaks and subsidies to help the economy bounce back next year.
For example, it plans to increase policy loans up to 497 trillion won to support companies investing in innovation sectors and spend 240.5 trillion won to support export firms.
Along with its investment plan, the government will focus on bolstering domestic consumption and attracting more overseas tourists.
As part of its efforts to boost domestic consumption and tourism industry, the government will review the option of allowing refund of 10 percent in value added tax during the Korea Sale Festa days next year. It also aims to attract 20 million foreign tourists next year riding the wave of the popularity of K-pop, K-beauty and K-food.