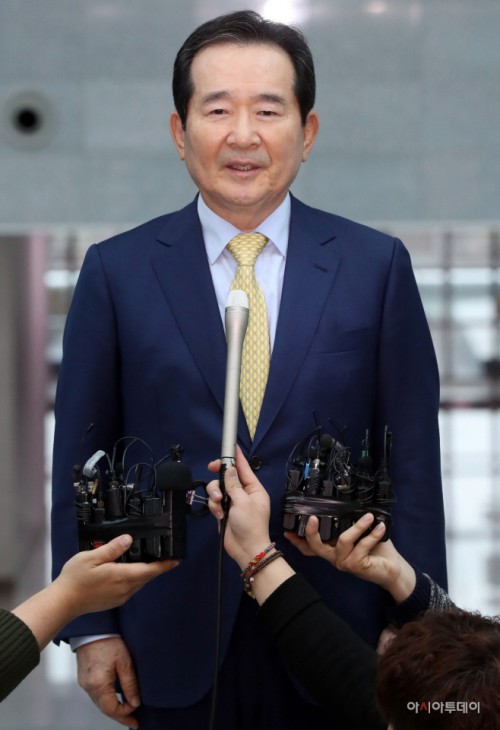 Prime Minister nominee Chung Sye-kyun speaks at the National Assembly on Dec. 17, 2019./ Photographed by Lee Byung-hwa
By AsiaToday reporter Lee Seok-jong
President Moon Jae-in has nominated former National Assembly speaker Chung Sye-kyun to serve as Prime Minister on Tuesday. After the nomination, Chung revealed that he will focus on reviving the economy and achieving national unity. Moon cited Chung's ability to bring about national unity and to pull off accomplishments in terms of the people's living and economy as the reason for his choice for the new PM. It appointed, Chung will be the country's first prime minister who served as a National Assembly speaker.
"I feel a heavy responsibility at being nominated at a time of many challenges in Korea and abroad," Chung said during a press conference at the National Assembly.
"I will concentrate on economic recovery and national unity and strive to make the government helpful to the people," the nominee said.
"When I worked as a National Assembly Speaker, I tried hard to allow rival parties engage in dialogue and compromise. In line with such effort, I will strive to increase communication between the ruling and opposition parties, and between the parliament and the government so that the government can eventually become helpful to the people," he said.
Regarding criticism that a former National Assembly speaker taking the post of prime minister is inappropriate under the principle of separation of powers, Chung said he had considered the matter but accepted the nomination judging that such factors could be set aside if it was for the people.
President Moon Jae-in made a rare appearance at Cheong Wa Dae's Chunchungwan press center and personally explained the reason for his nomination. "The most important thing is uniting the people's power as one through integration and harmony and producing outcomes in terms of the people's living and economy so that they can actually feel changes. We believe Chung is the right person to meet the needs of our times," Moon said.
"He was a successful businessman and opened an era of $300 billion in exports as industry minister at the Participation government," the president said. "He is a six-term lawmaker rich in experience and political leadership, as attested by his service as party leader and Assembly speaker," said Moon, adding Chung's mild personality has allowed him to practice the "politics of listening."
"I had concerns about nominating a former Assembly leader as the prime minister. But Chung is someone who has always placed dialogue and compromise at the forefront of his politics. At a time of severe confrontation and division, it is more important to consider the capacity for respecting and cooperating with the opposition and working toward the unity and harmony of the people," Moon said.
The ruling Democratic Party welcomed Chung's nomination, saying that Chung is the right person. However, the main opposition Liberty Korea Party (LKP) strongly opposed the nomination, urging the president to immediately cancel his decision.