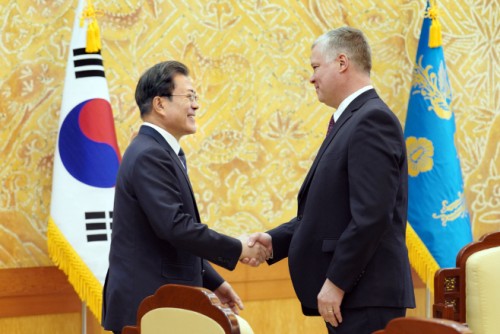 President Moon Jae-in shakes hands with Stephen Biegun, U.S. envoy on North Korea, at Cheong Wa Dae on Dec. 16, 2019./ Source: Yonhap News
By AsiaToday reporter Lee Seok-jong
U.S. Special Representative for North Korea Stepehn Biegun who is visiting South Korea offered North Korea to hold de-facto Panmujom talks on Monday. President Moon Jae-in immediately asked Biegun to make effort for progress in the Korean Peninsula peace process. With the so-called year-end deadline approaching, the attention is turned to whether North Korea will accept Biegun's offer.
"Let me speak directly to our counterparts in North Korea. We are here, and you know how to reach us," Biegun said during a press meeting at the foreign ministry in Seoul.
Biegun pointed out that his team is ready to resume negotiations with the North, saying the U.S. has offered to the North a number of creative ways to proceed with "feasible steps and flexibility" to reach "balanced" agreements.
Noting that Christmas season is coming, he added, "I hope that this day will usher in a season of peace."
His remarks came amid speculation that he may meet North Korean First Vice Minister of Foreign Affairs Choe Son-hui at the truce village of Panmunjom during his visit to South Korea to last through Tuesday. It seems the U.S. wants dialogue as Pyongyang demanded Washington to come forward with a new method of calculation before its self-imposed year-end deadline.
Biegun paid a courtesy call on President Moon at the presidential office Cheong Wa Dae at 11 a.m. Moon asked Biegun to "make constant effort for progress in the Korean Peninsula peace process." Biegun told Moon that he will do his best "to achieve the historic task of establishing denuclearization and peace on the Korean Peninsula, without giving up."
Cheong Wa Dae said that their talks was held "in a very serious mood" and lasted 35 minutes, but did not elaborate further.
It seems their talks may have been focused on ways to maintain the driving force for denuclearization negotiations and to break the deadlock in nuclear talks. In particular, the two are expected to have discussed about a possible meeting between the United States and North Korea since Biegun offered to have a meeting with the North.
"The two pointed out the severity of the current situation, in which both optimistic and pessimistic outlooks for negotiations with Pyongyang exist," a Cheong Wa Dae official said. "They agreed that dialogue and negotiations are the only way to resolve the problem. They had various in–depth discussions," the official said.
"President Moon encouraged Biegun team and requested his continued efforts to move forward the Korean peace process. Biegun maintained his stance in line with his remarks at the foreign ministry that the door is open for talks," the official said.