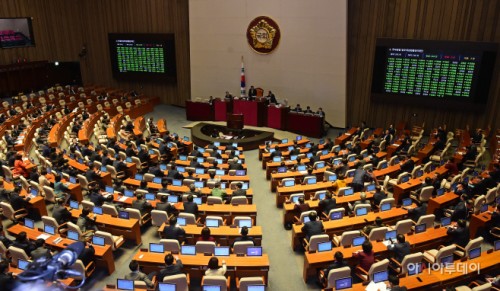 The view of the plenary chamber/ Photographed by Song Eui-joo
AsiaToday reporter Jo Jae-hyung
Tensions are rising at the National Assembly as controversial electoral and prosecutorial reform bills placed on fast track are expected to be put up for a vote at the Assembly plenary session on Friday. The ruling Democratic Party (DP) made it clear that it will put the reform bills up for a vote. The main opposition Liberty Korea Party (LKP) continued its protest at Rotender Hall in the National Assembly building to block votes on them. The rival parties strongly asserted their arguments, however left the door open for further negotiation. There is much attention towards whether a breakthrough will be made to avoid worst-case scenarios.
The DP revealed its plan to submit key bills to a plenary session. "It seems difficult to solve today's political situation with dialogue and compromise alone," said DP Rep. Lee In-young, the party's floor leader, during a meeting of party leaders at the National Assembly. "We will take our own path," he said. "The LKP neglected negotiations and chosen to protest. We request National Assembly speaker Moon Hee-sang to hold a plenary session on Friday to submit the reform bills and other bills related to people's lives," Lee said. As negotiations with the LKP reached a deadlock, the DP appears to have reaffirmed its willingness to get through the situation through the "four-plus-one coalition" with Bareunmirae, the Justice Party, the Party for Democracy and Peace and New Alternatives. The DP plans to draw an agreement with the four minor opposition parties by Friday morning.
If the LKP attempts a filibuster to block votes, the DP also plans to participate in the discussion and call for the need to pass the reform bills. After that, the DP plans to watch the situation until around Monday and end the provisional session. Then the ruling party plans to handle the bills by reconvening a provisional session early next week when the registration of primary candidates for general elections begins. However, the DP floor leader said the party will "leave the door open for future negotiations until the end."
On the other hand, the LKP continued its hard-line struggle ahead of a possible fast-track bill war. "A parliamentary coup is nearing to complete a leftist dictatorship," LKP Chairman Hwang Kyo-ahn said at the National Assembly's Rotender Hall. "We will make every effort to stop it," he said. However, the LKP left the door open for last-minute negotiations while keeping an eye on the DP's movements. "We will not let go the possibility of dialogue until the end," said LKP Rep. Shim Jae-chul.