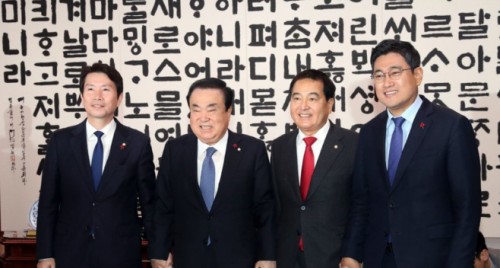 National Assembly Speaker Moon Hee-sang (2nd from L) poses with the floor leaders of the nation's three major political parties –Lee In-young (L) of the ruling Democratic Party, Shim Jae-cheol (2nd from R) of the main opposition Liberty Korea Party and Oh Shin-hwan of the minor opposition Bareunmirae Party – after their meeting at Moon's office in Seoul on Dec. 9, 2019./ Source: Yonhap
By AsiaToday reporter Lim Yoo-jin
The main opposition Liberty Korea Party (LKP) on Monday decided to drop its filibuster plan against fast-tracked reform bills if the three political parties reach an agreement over a budget proposal for the 2020 fiscal year.
"The Chairman of the National Assembly and the three political parties reached an agreement with expectations that the budget proposal would be agreed upon," Rep. Shim Jae-cheol, new floor leader of the LKP, said during a general meeting of the Assembly members. "Once the budget proposal is settled, everything else would go smoothly."
The LKP made sure that it would not accept a budget proposal amendment established by the ruling Democratic Party (DP) and a coalition of four other parties. The LKP says that amendment to the budget proposal should be agreed during negotiations between the three parties, including the DP, LKP and Bareunmirae Party, before other agreements such as withdrawal of filibuster plan could be implemented.
Earlier, the floor leaders of the three political parties had a meeting under the chairmanship of National Assembly Speaker Moon Hee-sang. They agreed to address budget proposal and bills related to people's livelihoods such as "Min-sik's Law" during Tuesday's plenary session. However, an electoral reform bill on mixed-member proportional representation and legislation on prosecutorial reform would not be put to a vote on Tuesday. The LKP had decided to withdraw its filibuster plan. However, it eventually withheld its decision following harsh criticism from a general meeting of the party.
The DP expressed deep regret over the LKP's decision to withdraw its filibuster plan on condition that the agreement on next year's budget proposal is completed. "Let's hold a plenary session at 10 am on Tuesday as planned," DP spokeswoman Jeong Choon-sook said. "We urge the LKP to withdraw its filibuster plan on 199 bills and to handle a number of bills related to the people's living, which are less controversial politically," Jeong said.
The ruling party says it will handle the 2020 budget proposal and bills related to the people's living at a plenary session on Tuesday. Then it plans to develop strategies looking at how the negotiations on fast-tracked bills go. The DP is reportedly planning to negotiate with the LKP for about two days and to push ahead with handling the fast-tracked bills if the main opposition party does not change its stance.