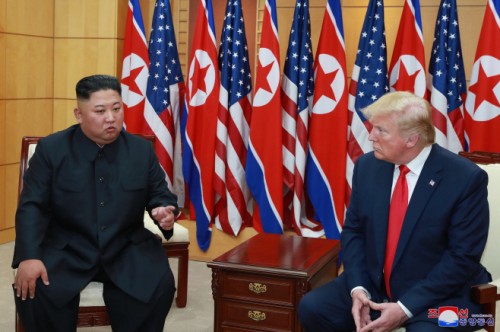 U.S. President Donald Trump meet with North Korean leader Kim JOng-un at Freedom House in Panmunjom on June 30, 2019./ Source: Yonhap News
By AsiaToday reporter Lee Jang-won
Pyongyang is increasing pressure ahead of its end-of-year deadline for Washington to propose a new proposal to kick-start stalled nuclear talks. While South Korean President Moon Jae-in and U.S. President Donald Trump agreed in a phone conversation Saturday that it's necessary to maintain dialogue over issues on the Korean Peninsula, North Korea announced a statement strongly suggesting that it could restart testing intercontinental ballistic missiles (ICBMs). Some are concerned that the situation on the Korean Peninsula could return the U.S. and the North to the brink of a nuclear war.
"A very important test took place at the Sohae Satellite Launching Ground (Dongchang-ri site) on December 7," the North said Sunday in a statement carried by the Korean Central News Agency (KCNA). North Korea hinted at taking a 'new path' by restarting the Dongchang-ri site, where North Korean leader Kim Jong-un promised to shut down permanently at an inter-Korean summit last September.
"The results of the recent important test will have an important effect on changing the strategic position of the DPRK once again in the near future," the statement said. The North did not say what was tested in Saturday's testing. Missile experts believe it could a ground-based test of a rocket engine to power a satellite launcher or an ICBM. "Dongchang-ri is a test site for vertical launches and liquid engines. There is little chance for solid fuel testing," said Kwon Yong-soo, a former professor at Korea National Defense University. "In this context, it appeared likely the North Koreans had conducted a test to cluster four existing Baekdu engines," Kwon said.
North Korea' recent announcement is de facto military action and a demonstration of force against the United States, which is showing no signs of response to the end-of-year deadline. Besides, the North is justifying itself that it would take a new path if Washington does not offer new conditions, such as easing sanctions on the North or guaranteeing Kim's regime survival. It is expressing its intention to threaten Trump to do a political blow ahead of next year's presidential election.
The North's U.N. ambassador, Kim Sung, said in a statement Saturday that denuclearization is off the negotiating table. "Denuclearization is already gone out of the negotiating table," Kim said. Referring to Trump's 2020 reelection bid, Kim said the "sustained and substantial dialogue" sought by the United States was a "time-saving trick" to suit its domestic political agenda.
In response, Trump said, "We'll have to see." However, Trump warned the North not to interfere with his reelection bid. "He knows I have an election coming up. I don't think he wants to interfere with that," Trump said.
Experts believe that the negotiations have not been completely broken down despite the extreme confrontation between the two countries. However, many remain skeptical that Washington and Pyongyang can resume negotiations within the year.