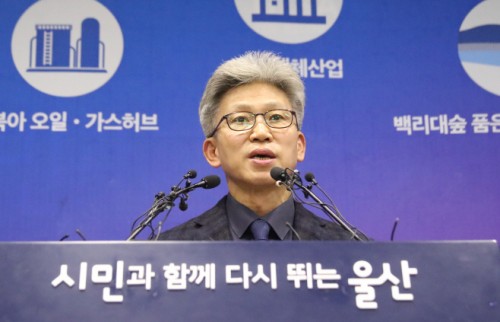 Song Byung-gi, the incumbent Ulsan vice mayor for economic affairs, speaks in a press briefing at the Ulsan City Hall Press Center on Dec. 5, 2019./ Source: Yonhap News
By AsiaToday reporter Lee Seok-jong
"It is not true that I intended to affect the mayor election when I provided the tip-off about former mayor Kim Ki-hyeon," Ulsan Vice Mayor Song Byung-gi, who was found out to be the whistleblower of Kim Gi-hyeon scandal, said Thursday.
Song held a press conference at the Ulsan City Hall Press Center and said, "There is no regret or hesitation about this act, and I will not be shaken by any malicious comments."
"I don't remember exactly when or what was it about, but I talked with an executive official of Prime Minister's Office about Ulsan City in general on the phone in late 2017," Song said. "We talked about general things about corruption allegations involving then Ulsan Mayor Kim Gi-hyeon's aides, which had been already revealed in the media."
He added his information was not confidential but was already spreading suspicion after a construct involved in the corruption allegation filed a complaint with Ulsan City Hall and Busan Police Agency several times since 2016.
Song said he came to know the Cheong Wa Dae official in late 2014 through a friend in Seoul, and has met him on occasion with other friends.
"I apologize to civil servants and citizens who are worried about distorted public opinions," Song added.
After reading the prepared statement, Song immediately left the press conference without taking any questions.