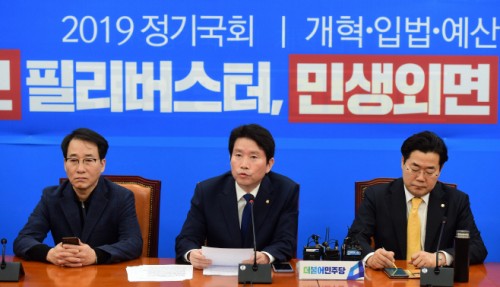 Democratic Party (DP) floor leader Lee In-young (center) speaks during a press briefing at the National Assembly./ Photographed by Song Eui-joo
By AsiaToday reporter Lim Yoo-jin
Rival parties confronted fiercely on Tuesday over the death of a former member of a Cheong Wa Dae special inspection team and suspicions that Cheong Wa Dae ordered police to investigate former Ulsan Mayor Kim Gi-hyeon. The ruling Democratic Party (DP) called for a special inspection, stating that the death of ex-Cheong Wa Dae inspector was due to the prosecution's unreasonable investigation. On the other hand, the main opposition Liberty Korea Party (LKP) called for an investigation of administration.
The presidential Cheong Wa Dae has expressed strong regret with the media following a series of reports about the death of a former presidential investigator linked to allegations that the top office meddled in last year's mayor election in Ulsan. "Some media provided the public inaccurate information," presidential spokesperson Ko Min-jung said in a media briefing on Tuesday. "The deceased had dealt with tasks officially assigned to him," Ko said. "Please keep in mind that the law prohibiting the disclosure of criminal cases and investigations has been implemented from Dec. 1."
The DP is considering setting up a task force to prepare countermeasures with the prosecutors who are investigating suspicions over the possibility of the presidential office having abused its powers. "The prosecution is conducting targeted and selective investigations," DP floor leader Lee In-young said at a party meeting. "The latest investigation is not understandable unless it intends to either adjust investigative rights between the prosecution and police or block the establishment of an independent body to investigate corruption charges involving high-ranking officials," Lee said.
Regarding the investigator's death just hours before he was due to appear before prosecutors for questioning, Lee said, "The prosecution and the police should jointly conduct a forensic verification on the cellphone of the investigator. We urge the Ministry of Justice to conduct a special inspection to find out whether there was abuse of power by the prosecution team."
"Some claim that it was an extreme decision due to the prosecution's unreasonable investigation practices," Cho Jeong-sik, chair of the DP's policy committee said. "The Justice Ministry must conduct an investigation into whether or not the prosecution abused its power during the probe."
On the other hand, the main opposition party harshly criticized former secretary for civil affairs Baek Won-woo, who is suspected of being involved in Ulsan mayor election. The LKP submitted a request for an investigation of state administration. The 108 members of the LKP and 17 Bareunmirae Party lawmakers were listed on the request.
"Cheong Wa Dae is making all sorts of excuses as if the investigator made an extreme choice due to the prosecution," LKP floor leader Na Kyung-won said.