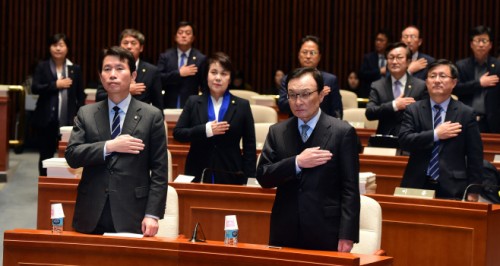 DP Chairman Lee Hae-chan (first row, right) and Rep. Lee In-young salute the flag at a general meeting of the Assembly members at the National Assembly./ Photographed by Song Eui-joo
By AsiaToday reporter Lim Yoo-jin
The political parties continued to have a harsh war of words on Monday, blaming others for missing a legal deadline to handle the government's 2020 budget proposal. Tensions are further intensifying as political confrontation continues over key contentious reform bills. The parliament has missed the deadline for the fifth straight year since 2015, and the passing of pending bills related to people's lives, including the revision to the road traffic act called 'The Min-sik Bill', remains uncertain.
The ruling Democratic Party (DP) plans to cooperate with four minor parties excluding the main opposition Liberty Korea Party (LKP) to handle the budget bill and fast track bills while waiting for LKP's withdrawal of a filibuster bid for several days. In response, the LKP is considering delaying fast-track bills by tabling amendments unlimitedly. As a result, the rival parties are expected to continue their political wrangling over handling the budget bill and fast track bills.
"I sincerely ask the Assembly to stop linking indisputable bills to political strife," President Moon Jae-in said during a meeting with his senior aides on Monday. "It is unthinkable to use bills crucial to the people's livelihoods as bargaining chips."
"The deadline for passing the budget has already passed," the president said. "The Assembly, which makes laws, is breaking the law."
National Assembly Speaker Moon Hee-sang expressed regret over parliament's failure to meet the deadline. "Tuesday is the legal deadline for passing the government's 2020 budget proposal, but we failed to meet the deadline. It is shameful that the Assembly failed to meet the legal deadline for five years in a row."
The DP called on the LKP to withdraw the filibuster move, calling it a "coup." "Unless the LKP promises to withdraw a filibuster bid and to normalize the parliament, we will handle the government's budget proposal and bills linked to people's lives through cooperation with other opposition parties by the end of the regular session," DP Chairman Lee Hae-chan said at a party meeting.
Through cooperation with four other minor parties, the ruling party focused on securing voters' support for the budget bill and fast track bills. It plans to lay the budget and other urgent bills at a regular session of the National Assembly and first handle the budget bill, which is impossible for a party to launch a filibuster. After the regular session, it plans to hold a provisional session to handle the bills related to people's lives and fast track bills.