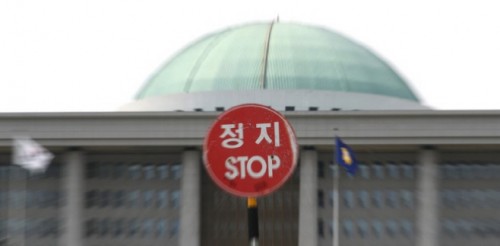 The National Assembly building/ Source: Yonhap
By AsiaToday reporter Lim Yoo-jin
Rival parties on Sunday wrangled over the schedule for a plenary session to handle the government's budget proposal for next year, a day ahead of the legal deadline for its parliamentary passage. War clouds are hanging over the political circle as there is just one or two days left to deal with the government's budget bill and prosecution reform bill.
is just one or two days left one to two days
In particular, the main opposition Liberty Korea Party's (LKP) filibuster declaration has ruled out the possibility to pass fast-track bills and budget bill at the same time. The ruling Democratic Party (DP) said, "We have reached the point where we can no longer try to reach a compromise," and revealed its plan to exclude LKP before handling fast-track bills sue. On the other hand, LKP said, "Open a plenary session to deal with bills related to people's lives, and guarantees a filibuster."
The DP plans to focus on the budget bill during the regular session of the National Assembly. Then it plans to hold a provisional parliament and push for fast-track bills. As a result, it is making efforts to exclude the main opposition LKP and cooperate with other four minor parties 0 the Bareunmirae Party, Justice Party, the Party for Democracy and Peace (PDP) and a new party divided from the PDP.
"We will settle the situation as quickly as possible with political parties and forces seeking for a great reform of the livelihood of the people," DP floor leader Lee In-young said Sunday at the National Assembly.
The ruling party believes there is not problem in processing the budget since it is impossible to filibuster the budget motion at a plenary session after the legal deadline on Dec. 2. It plans to initiate the plenary session on Dec. 3, while arranging the order of votes of the bills and putting the budget for next year in first place.
The main opposition LKP is seeking ways to block fast-track bills. The LKP claimed that it should handle bills linked to people's lives by opening a plenary session. "It was the ruling party that did not allow the Min-sik Bill to pass at the National Assembly's plenary session," LKP floor leader Na Kyung-won. Min-sik Bill is an amendment to the Road Traffic Act requiring the installation of speed cameras and traffic lights in all school zones, to ensure children's safety in school zones. Min-sik was a 9-year-old child killed by a car in front of his school last September.
The Bareunmirae Party suggested holding an one-point plenary session on Monday to deal with bills related to people's lives, including Min-sik Bill, and find a consensus on fast-track bills by having negotiations for a week. However, it is uncertain whether the rival parties would accept the offer.