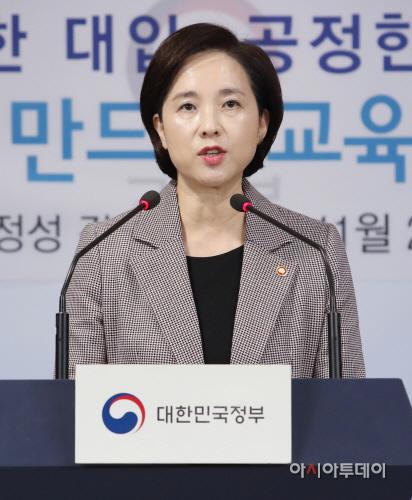 Education Minister Yoo Eun-hae speaks at a press briefing on revising the country's college admission policy at the Seoul government complex in Seoul on Nov. 28, 2019./ Photographed by Lee Byung-hwa (photolbh@)
By AsiaToday reporter Kim Beom-joo
16 major universities in Seoul will select at least 40 percent of their freshmen based on the results of a state-administered college entrance exam, or Suneung, starting in 2023. In addition, the controversial early admissions that require extracurricular activities in school records and a personal introduction essay will be eliminated in stages.
Deputy Prime Minister and Education Minister Yoo Eun-hae announced the plan Thursday in an effort to enhance fairness in college admissions at the Seoul government complex in Seoul.
The plan is aimed to block the influence of external factors, such as powerful parents, and enhancing fairness in college admissions by increasing the rate of "Jeongsi" – the traditional admissions track - based on the nationwide college entrance exam while reducing the rate of "Susi" – non-standardized admissions track – based on other factors such as school grades and extracurricular activities.
The education ministry primarily selected 16 Seoul-based universities currently devoting more than 45 percent of their yearly intake to "Susi". The universities include Seoul National University, Korea University, Yonsei University, Konkuk University, Kyung Hee University, Kwangwoon University, Dongguk University, Sogang University, University of Seoul, Seoul Women's University, Sungkyunkwan University, Sookmyung University, Soongsil University, Chung-Ang University, Hankuk University of Foreign Studies, and Hanyang University.
These universities currently pick only 29 percent of students through "Jeongsi" in average. If they raise their "Jeongsi" proportion up to 40 percent, 5,625 students more would be picked through the traditional admissions track.
The ministry said it will link the plan with its project that financially supports universities that simplifies admissions process to increase fairness and transparency.
Special admissions that are difficult for applicants to prepare at high schools, such as essay-writing admissions and specialist admissions will be eliminated. Starting in 2028, essay and narrative problems will be introduced in Suneung.
Under the plan, all the extracurricular activities will be excluded in student portfolios submitted during the application process.