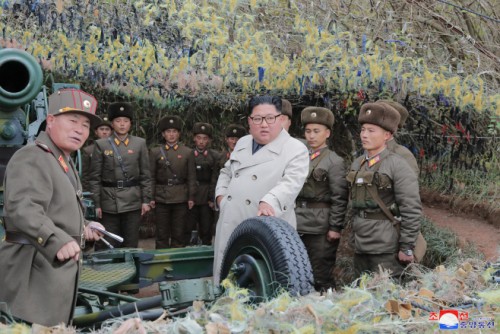 The undated picture released Monday by Pyongyang's Korean Central News Agency (KCNA) shows North Korean leader Kim Jong-un inspecting a military unit on Changrin Islet in North Korea./ Source: KCNA=Yonhap News
By AsiaToday reporters Lee Jang-won & Bae Jung-hee
North Korea conducted artillery firing drills from an inter-Korean border island in the Yellow Sea, violating the Sept. 19 military agreement for the first time. North Korean leader Kim Jong-un inspected a front-line military unit on the border islet of Changrin and directly ordered firing drills. South Korea immediately expressed regret over the artillery fire and urged North Korea to comply with the inter-Korean military agreement.
North Korea's Korean Central News Agency (KCNA) reported Monday that Kim inspected the defense unit on Changrin Islet and gave an order to fire by indicating the target for Gun 2 of the coastal artillery company on combat duty. Changrin Islet is located near the disputed sea border off the Korean Peninsula's west coast.
It is quite unusual for Kim to pay a visit to the border. The target of the firing is not known, but observers say it had been directed south. Considering that the firing took place two days ahead of the 9th anniversary of North Korea's deadly shelling of South Korea's Yeonpyeong Island in the Yellow Sea, Kim's inspection and the firing can be seen as provocative military action towards the South.
"The artillery firing drills are in violation of the Sept. 19 military agreement that the military authorities of the two countries agreed to and that have been fully implemented," defense ministry spokesperson Choi Hyun-soo told a regular briefing.
"We call on North Korea to immediately stop all military actions, which may heighten military tensions in border areas, and to fully comply with the Sept. 19 military agreement to ensure that similar cases do not take place," she added.
This is the first time that the Korean government has declared that the North violated the military pact. It seems the government has felt the seriousness of the situation as the North Korean leader directed the provocation of breaking the inter-Korean agreement by visiting the front line of the Yellow Sea. This year, North Korea has launched 12 short-range ballistic missiles and test fires. The South Korean defense ministry had maintained its position that the launches were against the intent of the Sept. 19 military agreement but that they were not violating the pact.
Kim's latest field guidance marks his third reported visit to military installations this month. He attended an air show on Nov. 16 and supervised an airborne landing training two days later. Experts believe Kim's field inspections of military facilities are aimed at ramping up pressure on both the United States and South Korea.
Last year, the two Koreas agreed to cease artillery fire drills and outdoor field exercises for regiments by creating buffer zones around the land, air and sea border areas to prevent skirmishes in the Sept. 19 military agreement.