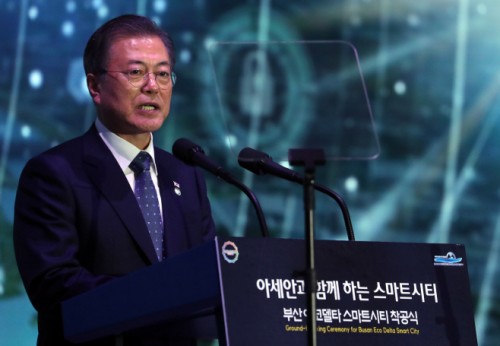 President Moon Jae-in delivers a speech during the groundbreaking ceremony for the Busan Eco Delta City in Busan on Nov. 24, 2019./ Source: Yonhap News
By AsiaToday reporter Hong Sun-mi
The third Korea-ASEAN commemorative Summit and the first Korea-Mekong Summit will open in Busan on Monday. There is much attention towards whether President Moon Jae-in's key foreign policy – New Southern Policy (NSP) – will expand the substantive economic territory and contribute to peace on the Korean Peninsula.
Since taking office, President Moon has vowed to open an era of full cooperation with ASEAN countries by expanding the existing diplomatic framework centered on the four superpowers – the United States, China, Japan and Russia. The upcoming summits are expected to be an important milestone and a testing board of Moon's foreign, economic and security policies.
While holding the summits, South Korea will promote bilateral FTAs with countries like the Philippines and Malaysia. If South Korea successfully achieves concrete cooperation outcomes with ASEAN countries in information communications technology (ICT), smart cities, and other competitive sectors, Moon's NSP is expected to broaden its horizons.
Above all, Moon attended a groundbreaking ceremony for the Busan Eco Delta City (EDC) in Busan with leaders of ASEAN countries and said, "South Korea will be with ASEAN cities." The president stressed that Seoul will share its experience of constructing and operating EDC with ASEAN cities.
Moon's attendance in the groundbreaking ceremony for the Busan Eco Delta City as the first schedule for the Korea-ASEAN Commemorative Summit reflects his willingness to expand the country's economic territory by sharing its smart city technologies with ASEAN.
The government aims to roll out the vision and initiatives of the New Southern Policy's next phase by drawing up measures for cooperation in various fields such as smart cities, ICT, science and technology, water supply and drainage management, Official Development Assistance (ODA), defense and more.
ASEAN is the latest blue ocean as its annual growth is nearly 5 percent. Therefore, the South Korean government believes that if it achieves its target of increasing the total trade with ASEAN to US$200 billion by 2020, it will have another major trading partner equivalent to China.
President Moon plans to hold bilateral talks with the top leaders of nine ASEAN countries during the summits to discuss ways to cooperate in various sectors.