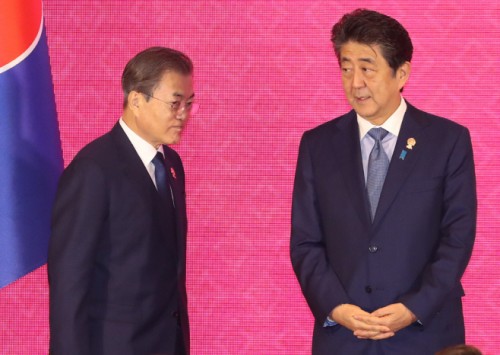 President Moon Jae-in and Japanese Prime Minister Shinzo Abe move to pose for commemorative photos at the 22nd ASEAN Plus Three summit held at the IMPACT Forum building in Bangkok on Nov. 4, 2019./ Source: Yonhap News
By AsiaToday reporter Lee Seok-jong
The General Security of Military Intelligence Agreement (GSOMIA) is expected to expire on Saturday as scheduled.
"We held a meeting of the National Security Council (NSC) standing committee, presided over by Cheong Wa Dae's national security office director Chung Eui-yong, and reviewed the government's diplomatic efforts to resolve pending issues between South Korea and Japan," Cheong Wa Dae said in a press release on Thursday.
"The committee members agreed to continue close consultations with major countries concerned and talked about ways to deal with various relevant situations," it said.
With Cheong Wa Dae's announcement, South Korea has made its position clear that GSOMIA expiration is inevitable unless there's change in Japan's attitude. However, Seoul apparently left the door open for a dramatic compromise by expressing its willingness to make diplomatic efforts until the end in order to draw changes in Tokyo's attitude.
Kang Gi-jung, senior Cheong Wa Dae secretary for political affairs, told Hwang Kyo-ahn, head of the main opposition Liberty Korea Party, Seoul and Tokyo are in dialogue, with both of the scenarios – extending the agreement and ending it – open. Hwang is staging a hunger strike against the Moon Jae-in administration's major policies, including the decision to ditch GSOMIA.
"The two sides are in talks with their utmost efforts since last Sunday, and the bargaining is near an end," Kang said. "Kim Hyun-chong, deputy chief of the presidential national security office, made a trip to Washington D.C., and other diplomatic line is in talks with Japan until the end," he said.
"The Abe government is not talking about its faults and demanding us to take a white flag, as if it is taking this opportunity to reduce us to submission. Since this is the case, things are not going smoothly as if walking on very thin ice," Kang said.
His remarks suggest that South Korean officials have no choice but to end GSOMIA due to Japan's unchanged attitude despite the continued diplomatic efforts of the South Korean government.
Attending a National Assembly session earlier in the day, Foreign Minister Kang Kyung-wha said,, "GSOMIA will expire tomorrow unless there's change in Japan's attitude."
When asked about the possibility of deferring the termination of the agreement, Kang said Tokyo's export curbs are unfair and retaliatory and have damaged trust between the two sides. The minister reaffirmed that Seoul doesn't plan to reverse its decision without a change from Tokyo.