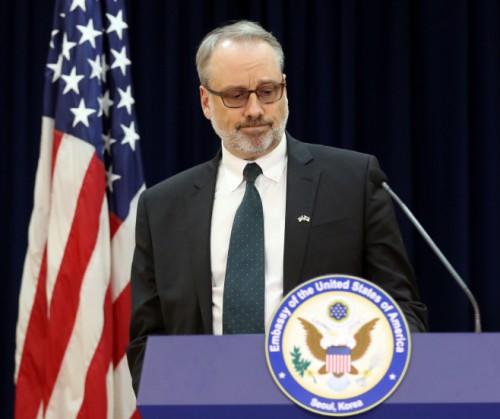 James DeHart, the chief US negotiator, speaks after a meeting with South Korean counterpart on the Special Measures Agreement (SMA) at the public affairs section of the US Embassy in Seoul on Nov. 19, 2019./ Source: Yonhap News
By AsiaToday reporter Lee Jang-won
South Korean and U.S. officials ended their third round of negotiations for the 11th Special Measures Agreement (SMA) without progress on Tuesday aimed at determining Seoul's contribution to defense costs on the Korean Peninsula. The US negotiation team has reportedly left the negotiating table earlier than planned, claiming that the proposals of the Korean side were not responsive to their request. It is not expected to be easy for the two sides to conclude negotiations within the year as they have not even set a schedule for the next round of talks. Furthermore, the two sides are expected to remain at odds over the fate of GSOMIA, which ends on Nov. 23.
The Foreign Ministry revealed in a statement that the 11th SMA negotiations failed to go on "as scheduled" on the second day of talks. The meeting was scheduled to take place from 10 a.m. to 5 p.m., but it ended in about an hour.
"It is true that there is a significant difference between the overall proposal from the United States and our position in principle," Jeong Eun-bo, South Korean Chief Envoy to Defense Cost Talks, told a press briefing. When asked which side first suggested ending the talks, Jeong said, "It was the U.S. that walked out of the talks."
In fact, James DeHart of the U.S. State Department told local media shortly after the talks ended, "Unfortunately, the proposals that were put forward by the Korean team were not responsive to our request for fair and equitable burden sharing."
According to the foreign ministry, the U.S. side holds the position that the share of the defense cost could increase drastically by establishing a new article in the cost-sharing deal. The U.S. has reportedly demanded a five-fold increase in Seoul's contribution, totaling some five billion dollars to cover expenditures related to U.S. strategic assets outside Korea and joint military exercises.
On the other hand, the South Korean government maintains the cost-sharing should be mutually acceptable within the framework of the SMA that the two sides have agreed on over the last 28 years. The SMA basically covers wages for Koreans working for the U.S. Forces Korea and expenditures for military construction and logistical support.
As the U.S. side left the negotiating table in an unusual move, it would be more difficult for the two sides to narrow their differences. Some observers say that Washington might put more pressure on the South Korean government to significantly jack up its financial contributions to the USFK.
The South Korean government plans to make efforts to ensure they take a fair share at a reasonable level that contributes to strengthening the South Korea-U.S. alliance and the combined defense posture.