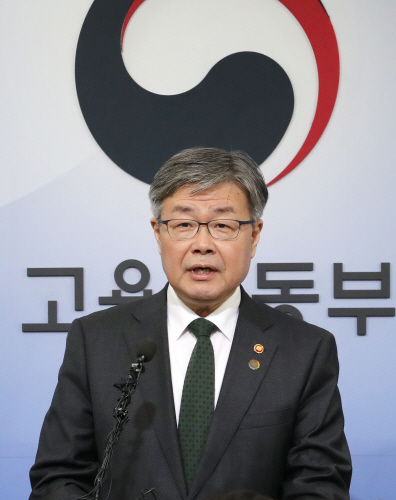 Labor Minister Lee Jae-kap speaks on the government's plan for extending the grace period for the 52-hour work policy at small firms at a press briefing in the government complex city of Sejong on Nov. 18, 2019./ Source: Yonhap
By AsiaToday reporter Kim Beom-joo
The government has decided to apply a grace period of more than a year for companies with 50 to 299 employees in adopting the 52-hour workweek system, which was initially scheduled to be implemented on Jan. 1, in a measure to give them more time to prepare.
The government also plans to ease the standard on special circumstances for authorized extended work hours if the legislation for the extension of the flexible work hours is not made by the end of this year.
Labor Minister Lee Jae-kap announced the government's plan for extending the grace period for the 52-hour work policy at small firms at a press briefing in the government complex city of Sejong on Monday.
"In the case the policies are not legislated, the government will carry out all possible measures focusing on areas that companies are struggling within the extent of not harming the purpose of the 52-hour workweek system," Lee said.
"It is not appropriate to state the specific grace period while legislation talks are underway (at the parliament)," the minister added.
However, the labor ministry plans to offer longer grace period for the SMEs than the period given to large companies.
Last July, the labor ministry granted a six-month grace period for large companies with more than 300 employees and an additional three months for some companies in specific fields. Considering the period given to large companies, the government is reportedly reviewing to offer companies with 50 to 99 employees more than a year of grace period and companies with 100 to 299 employees a year of grace period.
The labor ministry plans to implement supplementary measures such as allowing companies with special managerial circumstances to exceed the 52-hour cap upon the ministry's approval. This year, special work extension was allowed for 20 companies related to Japanese export control and 81 companies involving the recent African swine fever crisis.
In addition, the ministry will review measures to increase foreign worker visa quotas for companies and industries that are struggling from employee shortage.
Currently, the ruling and opposition parties are discussing ways to extend the unit period of the flexible worktime system to more than six months from the current three months in order to supplement the 52-hour workweek system, however they are not overcoming their differences.