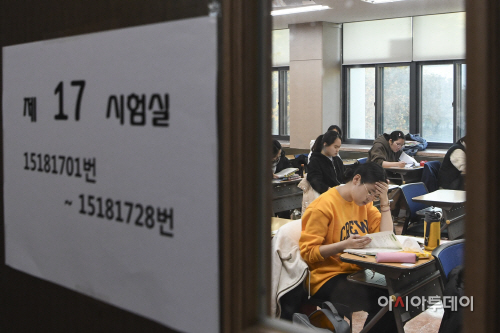 Test-takers wait for the beginning of the College Scholastic Aptitude Test (CSAT) at Ewha Girls' Foreign Language High School in Seoul, Thursday./ Photographed by Jung Jae-hoon
By AsiaToday reporter Kim Beom-joo
South Korea held the annual state-administered college entrance exam, the College Scholastic Aptitude Test (CSAT) or Suneung, on Thursday. This year's Suneung questions appear to be relatively easy unlike the last one, which was considered extremely difficult.
"We made the questions of the CSAT exams based on the essential content of the high school curriculum in order to help normalize high school education," said Shim Bong-seop, head of the exam committee, in a briefing on this year's CSAT questions held at Government Complex Sejong.
Considering the fact that last year's exam was considered 'too hard' and even faced lawsuits, many education experts say the level of difficulty for this year's exam was in line with the high school curriculum.
The exam committee explained that the questions were made comprehensively considering the level of education of test-takers that were identified through two trial exams conducted in last June and September.
"Just like last year, about 70 percent of this year's test content was based on the EBS textbooks supervised by the Korea Institute for Curriculum and Evaluation (KICE)," Shim said.
In addition, 10.15 percent of applicants missed the first session of this year's exam, slightly lower than last year's. According to the education ministry and KICE, 490,552 applicants showed up for the first session. Observers say that the figure is affected by increased screening systems that do not require Suneung grades.
This year's Suneung began at 1,185 exam venues across the country at 8:40 a.m. and ended at 5:40 p.m. A total of 548,734 people applied to take the exam, down 46,190 from the previous year.