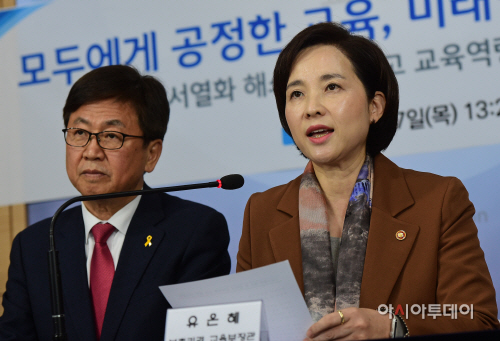 Education Minister Yoo Eun-hae announces a government plan to turn key elite high schools into general schools by 2025 at the government complex in Seoul on Nov. 7, 2019./ Photographed by Song Eui-joo (songuijoo@)
By AsiaToday reporter Kim Beom-joo
Autonomous private, foreign language and international high schools will be converted to general schools by 2025.
In order to strengthen competitiveness of general high schools, the government will inject 2.2 trillion won (US$1.99 billion) over the next five years. The funds will be used to enhance education in general high schools.
Education Minister Yoo Eun-hae announced a government plan entitled, 'Ways to break down class barriers among high schools and enhance education in general high schools', at the government complex in Seoul on Thursday.
The heart of the government plan is that three categories of elite high schools will be transformed into general schools by 2025 to promote fairness in education. The education ministry plans to immediately begin revising Enforcement Decree of the Elementary and Secondary Education Act.
There are 42 autonomous private high school, 30 foreign language and seven international high schools in operation across the country. Until 2024, the schools will maintain their status as special-purpose institutions and accept new students.
Starting from March 2025, they will admit students in the same way as regular schools but can maintain their names and specialized curriculums.
The education ministry set the transition period of elite high schools into general ones in 2025 in consideration of a new credit system that will be put in place starting in 2025. A full-fledged credit system will be enforced at general high schools starting in 2025, giving students greater autonomy to choose their own classes.
Those autonomous private, foreign language and international high schools that are scheduled for re-classification assessment next year, including 14 autonomous private high schools that came to maintain their status through operational and performance evaluation this year, will not be evaluated until 2025.
General high schools, which recruit students nationwide, will change their system into regional and district recruitment starting in 2025. Schools for gifted students and other special-purpose schools in science will retain their status, but their selection process will be improved in order to eliminate factors that can promote spending on private education.
In addition, the ministry plans to focus on strengthening competitiveness of general high schools by launching a 'curriculum support team' at the city and provincial office of education.