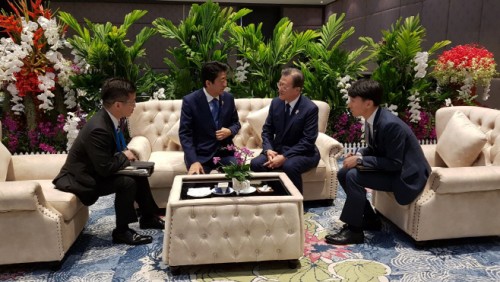 President Moon Jae-in and Japanese Prime Minister Shinzo Abe hold talks on the sidelines of the ASEAN Plus Three summit in Bangkok on Nov. 4, 2019./ Source: Cheong Wa Dae
By AsiaToday reporter Lee Seok-jong
President Moon Jae-in and Japanese Prime Minister Shinzo Abe reaffirmed their willingness to resolve the conflict between the two countries through dialogue in a discussion in Thailand on Monday. As a result, it is noteworthy whether the Seoul-Tokyo relations, which have deteriorated to their lowest in decades since South Korea's top court last year ruled in favor of Korean wartime forced laborers, could be reversed.
Moon met with Abe for 11 minutes on the sidelines of the Association of Southeast Asian Nations (ASEAN) Plus Three summit at IMPACT Forum in Bangkok. Their encounter was the first in 13 months, since their summit on the sidelines of the UN General Assembly in September last year.
"Ahead of the ASEAN Plus Three meeting, Moon and Abe had a face-to-face meeting for 11 minutes from 8:35 a.m. to 8:46 a.m.," presidential spokesperson Ko Min-jung told reporters. "Moon and Abe held a very friendly and serious dialogue."
"The two leaders agreed that Seoul-Tokyo relations are important and reaffirmed the principle of resolving pending bilateral issues through dialogue," Ko said. "They also expressed hope that the two sides will hammer out ways for substantive progress in official consultations between their foreign ministries," she said.
"President Moon offered higher-level talks if necessary. In response, Abe suggested seeking a resolution by using every available means," Ko said.
Moon's direct offer to Abe seems to be based on the judgment that he could not leave any longer the worsened relations between Seoul and Tokyo following Japan's unfair export regulations and South Korea's decision to end the General Security of Military Information Agreement (GSOMIA).
It seems that Abe accepted Moon's offer as he also agreed to resolve the relationship between the two countries through communication between the leaders. Initially, many predicted that the Moon-Abe meeting was unlikely to take place at the ASEAN related meeting. However, as the two leaders held an informal meeting and agreed to resolve pending issues through dialogue, discussions between the two countries are expected to speed up.
As both Moon and Abe revealed their willingness to find a solution by using every available means, a top-down problem solving cannot be ruled out.
"The talks that Moon mentioned may be ministerial or higher-level consultations, but it's hard to say anything with certainty," Ko said.
There is also much attention towards whether the discussion between Moon and Abe will lead to a formal summit meeting at the China-Japan-South Korea trilateral summit to be held in China next month.