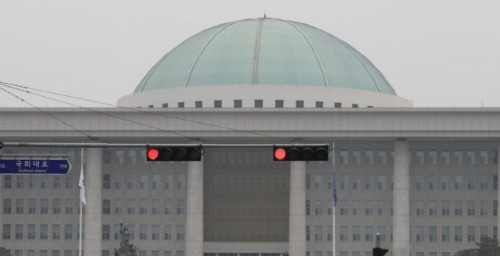 The National Assembly Building / Source: Yonhap
By AsiaToday reporter Lim Yoo-jin
The ruling and the opposition parties are gearing up for a reshuffle ahead of the April general election. According to the political community on Sunday the ruling Democratic Party (DP) is considering to reveal a list of the bottom 20 of the lawmakers for nominations except those who dropped out of the race. The main opposition Liberty Korea Party (LKP) will begin discussions on the secondary recruitment and nomination rules this week.
The DP will impose a 20% penalty on the bottom 20 lawmakers for the nomination and the primary. Opening up the list indicates the DP will conduct intense reshuffle ahead of the general election. Amid rising call for nominal change inside and outside the party, such announcement of the list can be seen as a paving stone for a wide-range reshuffle through systematic change.
There are about nine lawmakers who are expected not to seek re-election, including Rep. Lee Hae-chan, Rhee Cheol-hee and Pyo Chang-won.
A flurry of demand for Lee's resignation despite his apology for the Cho Kuk controversy, especially among the party members, can be seen in the same context. As more party members believe that Lee's 'one-top system' will make it difficult to win the general elections next year, many are now demanding for Lee's resignation through online boards.
The LKP will begin its secondary recruitment and discussion for the nomination rules for the 21st general elections. LKP chairman Hwang Kyo-ahn's side is considering sharing the list for recruitment and collecting opinions with key figures before the secondary announcement. They plan to highlight new faces while reducing the number of nominees in the secondary announcement.
Hwang will hold an appointment ceremony of general election planning committee, headed by LKP secretary-general Park Maeng-woo, on Monday in order to prepare for the nomination. While LKP's approval rating declined recently, Hwang's leadership and his preparation for nomination rules will be put to the test once again.
Minor parties are also preparing for the general elections by creating a new party, carrying out political reform, and recruiting new faces.