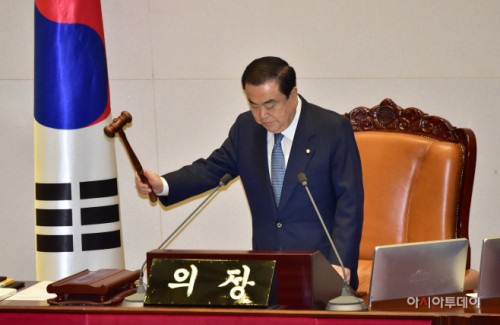 National Assembly Speaker Moon Hee-sang chairs a plenary session at the National Assembly in Seoul on Oct. 29, 2019./ Photographed by Lee Byung-hwa
By AsiaToday reporter Lee Jang-won
National Assembly Speaker Moon Hee-sang has decided to delay his decision to put the controversial prosecutorial reform-related bills to floor decision until Dec. 3, contrary to earlier speculation that he would do so on Tuesday. The decision was made to avoid escalating tension between rival parties and allow time for them to reach a deal. However, both the Democratic Party (DP) the Liberty Korea Party expressed frustration with the speaker. If rival parties fail to reach a deal until the referral, greater conflicts are expected with the revision of an election reform bill and the budget proposal for next year.
"We concluded that it would be appropriate to refer the judicial reform bill to the plenary session on December 3," parliamentary spokesperson Han Min-soo said in a briefing. "Once the bills are referred to the plenary session, we intend to waste no time in getting the bills passed," Han said.
Moon came up with the decision to avoid legal controversy and prevent a conflict between the ruling and opposition parties over the referral itself and its timing. The ruling DP insists that the bills are ready to be put to the floor because they met the required period of 180 days for review. The bills were placed on the fast track by the Special Committee on Judicial Reform on April 30. The LKP, meanwhile, wants the bills to be reviewed independently by the National Assembly Judiciary Committee for 90 days.
In response, Moon prepared an exquisite compromise by setting the date of referral to Dec. 3, the 90th day from the judicial reform bill's transfer to the judiciary committee. He intends to collectively deal with an election reform bill, which will be referred to the plenary session on Nov. 27, as well as the budget proposal for next year, which is due on Dec. 2.
However, the DP and LKP responded negatively to the speaker's decision. DP floor leader Rep. Lee In-young said the decision went against principles. "It's very regrettable. No one can postpone the orders of the people," Lee said.
LKP floor leader Rep. Na Kyung-won said, "Dec. 3 isn't any good. It's a misinterpretation of the law."
The DP plans to discuss the matter further with the other political parties that voted for the fast tracking of the bills. "I have no choice but to find out how to carry out the prosecution reform and election reform with the opposition parties and political groups that cooperated for the fast tracking," Lee said.
On the other hand, the LKP claimed that their cooperation is an 'unfair coalition' for increasing the number of members of parliament and passing the fast-tracked bills. "It's a coalition among greed political forces," Na said.
However, the Bareunmirae Party (BP), the Party for Democracy and Peace, and the Justice Party were more positive with Moon's decision. BP floor leader Rep. Oh Shin-hwan said, "The decision is fortunate and reasonable." Oh Hyun-joo, spokesperson of the liberal Justice Party, said, "We respect Moon's decision."