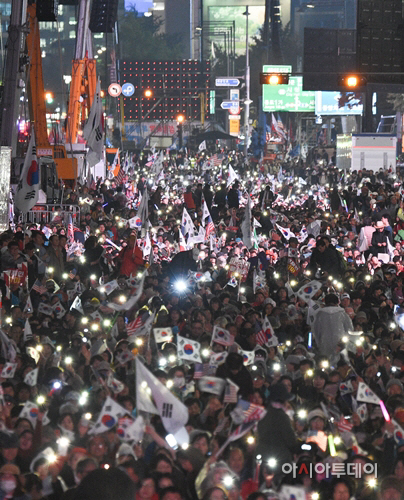 Protesters hold up national flags at a rally against the government hosted by the Pan-National Alliance for Moon Jae-in's Resignation at Gwanghwamun Sqaure on Oct. 25, 2019./ Photographed by Jung Jae-hoon
By AsiaToday reporters Lim Yoo-jin & Maeng Sung-kyu
Conservative Christians and civic groups as well as citizens critical of the Moon Jae-in administration held all-night rally in Gwanghwamun Square and Sejong Street on Friday. The organizers claimed some one million people participated in the rally.
The rally was the third of its kind following the rallies on the National Foundation Day and the Hangeul Day on Oct. 3 and Oct. 9, respectively. It was the first one after Cho Kuk stepped down as Justice Minister on Oct. 14. Protesters strongly criticized the government's plans to set up a special body investigating corruption in high-ranking public officials and chanted slogans like "Political judge out."
The protest was organized by the Pan-National Alliance for Moon Jae-in's Resignation, headed by Pastor Jeon Gwang-hoon. Leaders of the main opposition Liberty Korea Party (LKP), such as Chairman Hwang Kyo-ahn and Floor Leader Na Kyung-won, also took part in the rally. They called for a policy shift in the civil, economic and security sectors of the Moon Jae-in administration after the Cho Kuk scandal.
During the rally, Hwang told reporters that the people were feeling anger toward the Moon Jae-in administration. "I came here today to express the people's anger." When asked if he agrees with the intention of the rally calling for Moon's resignation, Hwang answered, "I protest against the tyranny of the Moon Jae-in regime."
"I am staying with you. I will be with you praying as a citizen today." Hwang said at the end of the protest.
"We must join the struggle of the people," Na told reporters. "Our struggle does not end with Cho Kuk's resignation. His resignation is just the beginning. We must join the people's protest against the Moon Jae-in administration," she said.
Protesters also criticized the government's plan to create a separate investigative body for high-ranking officials. "There are only two countries in the world that enforce such body," lawmaker Kim Jin-tae said. "I'm opposed to the independent anti-graft body. Abolish it," he added. "Such anti-graft body is a government body for dictatorship. We must not let President Moon Jae-in do it," said lawmaker Ahn Sang-soo.
"As long as President Moon Jae-in stays at Cheong Wa Dae, the Republic of Korea will be a disaster," Pastor Jeon said in the opening remarks. "I have never told any presidents to resign, not even during the Kim Dae-jung administration nor the Roh Moo-hyun administration. I've always prayed for the sake of our country."