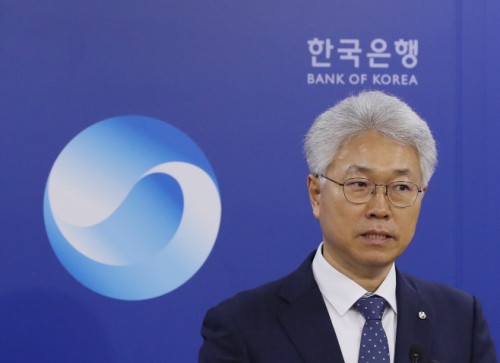 Park Yang-su, head of the economic statistics department at the Bank of Korea (BOK), gives a briefing in Seoul on Oct. 24, 2019, on South Korea's third-quarter economic growth./ Source: Yonhap
By AsiaToday reporter Cho Eun-gook
South Korea's economic growth slowed more than expected in the third quarter, dimming prospects of achieving 2% growth this year. Experts say it's virtually impossible to achieve two percent growth since it is achievable if GDP grows by nearly 1 percent in the fourth quarter from the previous quarter. Bank of Korea (BOK) Governor Lee Ju-yeol revealed that two percent economic growth this year is not easy to foresee at present. South Korea has only four times posted an annual growth rate of less than 2 percent – in 1956, 1980, 1998 and 2009 – and they all followed serious global events, such as an oil shock, the Asian financial crisis and the global financial crisis.
The BOK's advance estimates showed on Thursday the economy grew 0.4% during the July-September period on-quarter. On an on-year basis, the local economy grew 2 percent in the third quarter. The BOK explained that annual growth of 2 percent will be possible only if the economy grows by 0.97 percent (on-quarter) in the fourth quarter. "Although government spending remained stable in the third quarter, investment was weakened due to a base effect, which slowed the government's fiscal spending," Park Yang-su, head of the BOK's economic statistics department, told a press briefing. "As the growth rate is falling, it is necessary to look at what kind of efforts are needed to increase the potential growth rate than focusing on achieving annual growth rate at 2 percent," Park said.
In fact, the government's contribution to economic growth fell sharply to 0.3 percent in the third quarter from 1.2 percent in the previous quarter. Fortunately, the downtrend in export has weakened. The export climbed 4.1 percent in the third quarter from three months earlier while import gained 0.9 percent in the quarter.
Appearing at a parliamentary audit, BOK Governor Lee Ju-yeol expressed concerns, saying it may not be easy to achieve two percent growth this year. But he added it remains to be seen due to variables in the fourth quarter, such as the government's fiscal policy.
Rival parties were divided on the cause of economic slowdown. While both the ruling and opposition parties were concerned that the annual growth rate would be at around 1 percent, the ruling party pointed out that extra budget slowed down the rate of growth while the opposition parties put the blame on the government's economic policies. Kim Kyung-hyup of the ruling Democratic Party (DP) said, "The biggest factor behind the slowdown was that extra budget approval was delayed for more than three months and sharply reduced, disturbing it from playing a financial role." On the other hand, the main opposition Liberty Korea Party (LKP) and the minor opposition Bareunmirae Party pointed out that the government's misperception of economic conditions led to slowing growth. LKP lawmaker Park Myung-jae said, "Despite the fiscal expansion, the government spending contributed little to the economic growth. The government should set up policies properly so that the annual growth rate does not fall to one percent."
In response, Finance Minister Hong Nam-ki said, "The government will do its utmost in the fourth quarter by mobilizing all available resources to achieve an annual growth of over 2 percent. It is important to make sure that government spending is executed properly."