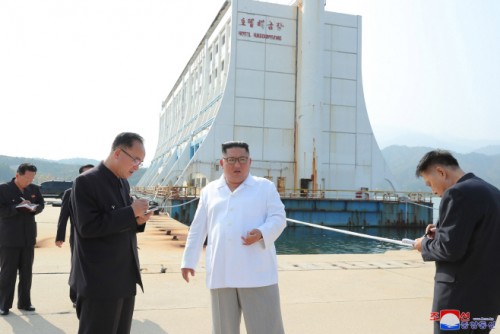 North Korean leader Kim Jong-un talks with an official during his visit to Mount Kumgang in this photo released by the state media Korean Central News Agency (KCNA) on Oct. 23, 2019./ Source: Yonhap News
By AsiaToday reporter Lee Seok-jong
As Pyongyang's state media reported Wednesday that leader Kim Jong-un ordered the elimination of South Korean-built tourist facilities on Mount Kumgang, attention is now focused on the impact on the Korean Peninsula as well as inter-Korean relations.
As Kim mentioned 'consulting with the South Korean side', hopes have risen that there will be an opportunity to reopen the inter-Korean communication channel that has been blocked. On the other hand, many are concerned that Kim's order to remove the facilities at the Mount Kumgang, which is seen as a symbol of inter-Korean exchange and cooperation, is casting a bleak outlook on the inter-Korean relations.
In response to the North Korean media reports, the South Korean government said it is trying to find out the North's intentions.
"What should be done first is to clearly analyze what position North Korea has and its plan," a key Cheong Wa Dae official told reporters. The official said that if there's any chance to have consultations, the government will do so, opening up the possibility of inter-Korean dialogue. Asked if Cheong Wa Dae expects Kim's mention of 'consultation with the South' would lead to reopening of inter-Korean dialogue, the official said, "I won't deny it."
"Above all, it is important to examine the North's intentions and check factual details," Seoul's Unification Ministry spokesman Lee Sang-min told a briefing on Wednesday. "If there's any request from the North, we are always willing to hold discussions from the aspects of protecting our citizens' property rights, the spirit of inter-Korean agreements and the resumption of tours to Mt. Kumgang," the spokesman said.
Unification Minister Kim Yeon-chul said, "You should watch out for critical and negative comments that have been made." Yet, the minister said there is "still room for crucial cooperation between the two Koreas."
Experts had mixed views on the government's hopes for inter-Korean dialogue.
"The North Korean side is highly likely to request prompt removal of South Korean-built tourist facilities at Mount Kumgang if an inter-Korean dialogue begins with the Mt. Kumgang issue," said Chung Seong-jang, a senior researcher at the Sejong Institute in Seoul. "Therefore, if inter-Korean dialogue resumes due to the Mt. Kumgang issue, it wouldn't lead to improvement of inter-Korean relations," Chung said.
On the other hand, Cho Bong-hyun, a senior analyst at IBK Economic Research Institute, said, "It's not that Kim refused to talk with the South Korean side. He apparently ordered the removal for renewal in order to run international tourism business."