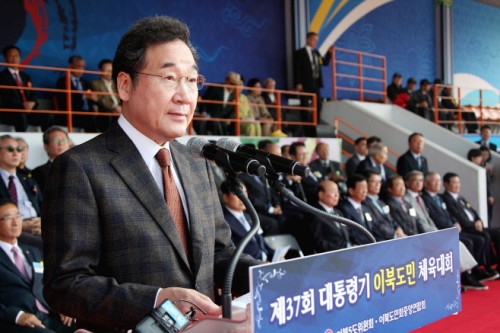 Prime Minister Lee Nak-yon/ Source: Yonhap News
By AsiaToday reporter Hong Sun-mi
Prime Minister Lee Nak-yon is scheduled to visit Tokyo on Tuesday to attend Japanese Emperor Naruhito's coronation.
Lee's visit is drawing attention because he is expected to deliver a message from President Moon Jae-in to Prime Minister Shinzo Abe when they meet on Thursday, the last day of his three-day trip. Observers say Lee's trip could pave the way for a Seoul-Tokyo summit in November and even a thaw in the countries' ties.
Earlier, Japan's Yomiuri Shimbun reported Saturday that the South Korean government is reviewing ways to hold a bilateral summit.
In response, a Cheong Wa Dae official said Sunday, "We are not sure if it's time to talk about the summit meeting. At the moment, the meeting between Lee and Abe is the most important thing. It is difficult to predict how the situation will change after that."
Another official said, "Our position to solve the problem through dialogue with Japan remains the same."
Abe's recent remarks, which stressed the importance of dialogue, also raise expectations for progress in relations between the two countries.
During an Upper House budget committee session Wednesday, Abe said that he does not intend to "shut down dialogue" with South Korea which he called an "important neighboring country." He said that he recognizes the importance of bilateral cooperation with Seoul as well as trilateral cooperation between Seoul, Tokyo and Washington.
Besides, both Seoul and Tokyo have enough reasons to find a solution. Several multilateral conferences, such as the ASEAN and APEC summits, will be held next month, and Seoul will officially terminate the General Security of Military Information Agreement (GSOMIA) with Japan on Nov. 23.
The South Korean prime minister is also expected to focus on creating favorable conditions for improving bilateral relations during his Tokyo trip.
During an interview with Japan's Kyodo News on Friday, Lee said that he requested Moon to send a friendly letter to Abe.
With regard to the issue to Japan's wartime forced labor, Lee said that Moon thinks the issue shouldn't be an obstacle between the two countries heading toward a future-oriented relationship. "Moon is mulling options that could be accepted by the victims and understood by the Korean people."
In the end, Moon's message to Japan and Abe's response as well as Lee's role as a stepping stone, are the key to Lee's visit.