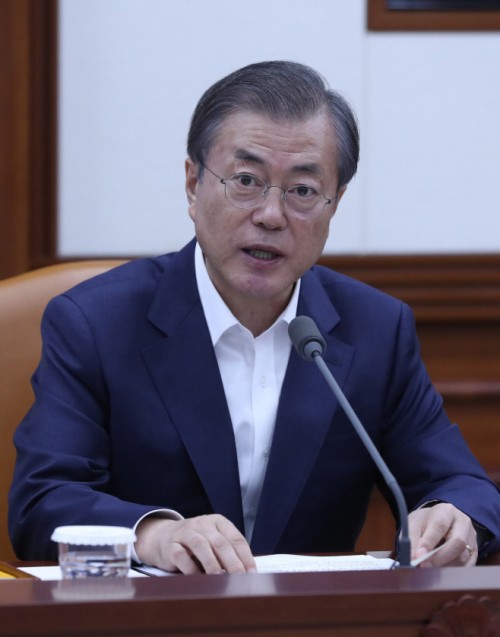 President Moon Jae-in speaks at a meeting with economy-related ministers at the government office complex in Seoul, on Oct. 17, 2019./ Source: Yonhap News
By AsiaToday reporter Hong Sun-mi
"It's a must do for the government to expand fiscal spending to reinforce the economy and inject a vigor into the economy when the economy is in difficulty," President Moon Jae-in said on Thursday.
Moon also raised the need to boost the government's investment in social overhead capital (SOC), saying, "Above all, vitality in the private sector must be improved to help revitalize the economy. Construction investment plays a major role in improving vitality in the private sector."
Moon repeatedly urged economy-related ministries to come up with bold fiscal measures to revitalize private economy at a rare separate meeting with his economy team at the government office complex in Seoul.
The closed-door meeting was held over three hours from 12:40 pm to 3:45 pm. Moon's move is seen as reflecting his determination to oversee economic affairs in person amid global economic downturn.
Moon said that South Korea, like many other countries that are highly depend on exports, is suffering economic troubles due to such external factors as deepening trade disputes and the sharp shrinking of the global manufacturing sector. "The government should focus and do its best to revitalize the economy and stabilize the people's livelihoods," Moon said.
"The government has focused its efforts on preventing the rapid economic contraction and creating conditions for economic rebound through its active fiscal policy," the president said.
"Instead of using artificial stimulus measures, the government has focused on construction investment that can improve the people's living conditions," he said. "We will keep moving in this direction and expand necessary construction investment."
He also stressed the need to increase the supply of government-backed houses to solve the housing problem for the working class and speed up the construction of planned metropolitan transportation networks to ease traffic congestion. He also urged the related ministries to speed up other projects to improve facilities related to education, welfare and culture.
However, Cheong Wa Dae denied that Moon's remarks on the construction field signal a change in the government's related policy.
"It was not about changing policies to expand construction investment," a key official of Cheong Wa Dae said. "The president was talking about the need to put forward the construction of new houses, which is already planned," the official said.