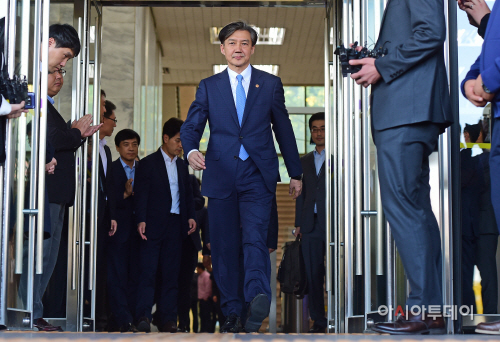 Justice Minister Cho Kuk leaves the ministry in Gwacheon after announcing his resignation on Oct. 14, 2019./ Photographed by AsiaToday reporter Song Eui-joo
By AsiaToday reporters Heo Gyeong-joon & Lee Wook-jae
Justice Minister Cho Kuk stepped down from his post Monday. His resignation came just 35 days after he took office on Sept. 9.
Cho announced his resignation at 2 pm by issuing a statement titled, "My role as kindling for prosecution reform has come to an end."
"Reforming the prosecution has been my lifetime mission as a scholar and intellectual," Cho said. "'Reforming investigation structure based on principles of containment and balance', and 'balancing out the prosecution's investigative power to respect human rights' have been my long-time conviction," he said.
"Over the past two years, I did my best as the Moon Jae-in administration's first senior presidential secretary for civil affairs and justice minister for the reform of the prosecution," he added.
He revealed that the prosecution's intensifying probe into several allegations involving his family, including his wife Chung Kyung-shim, pressured him to step down.
"However, something inconceivable has happened," he said. "For whatever reason, I felt apologetic to the people. I was especially sorry to the youth who were hurt."
"I felt apologetic to the public regarding the investigation into my family, but I put up with it each day with the determination to do my last part for the prosecution reform as a minister, even for a few days, before disappearing," Cho said. "But I believe my role ends here."
"I thought my family affairs should not burden the president and the administration any longer," he said. "Only after I step down, I think the time has come that prosecution reform can be completed successfully. I am no more than a kindling for reforming the prosecution."
He asked for the public to support the president and the government.
Meanwhile, the prosecution's investigative power will be balanced out by leaving only three special investigation units that focus on corruption scandals involving high-ranking officials. The remaining units, which will remain under prosecutors' offices in Seoul, Daegu and Gwangju, will use the name "anti-corruption investigative unit" instead of the current "special investigative unit," which has been used for around 46 years.
The Justice Ministry said on Monday that it will submit the prosecutorial office revision plan to the Cabinet on Tuesday.
Apart from balancing out the prosecution's investigative power, the plan also focus on protecting human rights. Some controversial practices, such as late-night and long hours of questioning, will be corrected to better protect the rights of suspects and stakeholders probed by the prosecution.
President Moon Jae-in formally accepted Cho's resignation offer and signed a related document at 5:38 pm.