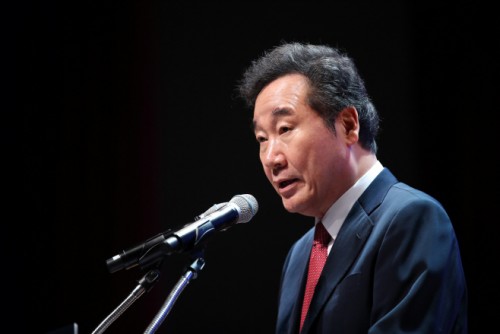 The Prime Minister's office confirmed Sunday that Prime Minister Lee Nak-yon will visit Tokyo for Oct. 22 to 24 to attend Japanese emperor Naruhito's enthronement ceremony. The image shows the prime minister delivering a speech during an event held in Seoul on Oct. 8, 2019./ Source: Yonhap News
By AsiaToday reporter Lee Seok-jong
Prime Minister Lee Nak-yon will attend Japanese emperor Naruhito's enthronement ceremony on Oct. 22 on behalf of the South Korean government.
Lee's role during his visit to Japan is drawing attention since he is known as one of the few pro-Japanese officials in the Moon administration. Besides, public opinion in Japan is in favor of him.
Since Lee is scheduled to meet with Japanese Prime Minister Shinzo Abe during his Japan visit, attention is being drawn on whether strained relations between South Korea and Japan triggered by Japan's unfair export regulations will have a turning point.
"Prime Minister Lee will visit Tokyo for Oct. 22 to 24 to attend Japanese emperor Naruhito's enthronement ceremony," the Prime Minister's office confirmed Sunday.
Lee's itinerary includes the enthronement event on Oct. 22 followed by a banquet hosted by Japanese Prime Minister Shinzo Abe on Oct. 23. Lee will also meet with key officials in Japan's political and business circles and will host a meeting with Korean residents and immigrants in the country.
First, Lee will meet Abe during a banquet on Oct. 23. However, it will be difficult to have an in-depth dialogue on the issues of the two countries since representatives from different countries will attend the event. Therefore, the South Korean government is pushing to hold separate bilateral talks.
The government informed Japan that it would send Lee to the ceremony and that the two nations are reportedly in consultations on the matter.
If the bilateral talks are held between Lee and Abe, it would be the highest-level dialogue since South Korea's Supreme Court last year ordered two Japanese companies to compensate South Korean victims of forced labor during Japan's colonial rule of the Korean Peninsula.
Some predict that the prime minister would convey President Moon's message as a "de facto special envoy" to repair the worsening bilateral ties.
During the bilateral talks, the two are expected to discuss issues between the two countries, including compensation for Korean victims of wartime forced labor, Japan's export control measures, and Seoul's planned termination of GSOMIA.
However, the two are unlikely to discuss each agenda in detail. Instead, they are expected to check each other's willingness to improve relations and open an official channel for dialogue in order to seek diplomatic solutions.
"Despite the worsening relations between Seoul and Tokyo, the South Korean government has not changed its idea that the top priority is addressing issues through dialogue," a Cheong Wa Dae official said. "Prime Minister Lee's participation is also a part of such efforts.''
"We hope his visit can help improve ties," the official added.