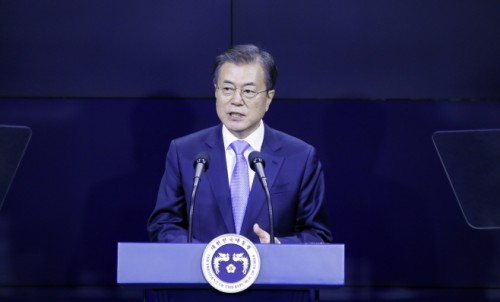 President Moon Jae-in speaks during a ceremony announcing Samsung Group's investment in next-generation display technology and supporting plan for its subcontractors at Samsung Display's Asan plant in South Chungcheong Province, on Oct. 10, 2019./ Source: Yonhap News
By AsiaToday reporters Hong Sun-mi & Hwang Eui-joong
The government and Samsung Group stepped up to support the nation's display industry, which has been struggling to keep its market dominance amid rising competition from Chinese rivals. While Samsung Group plans to invest in the quantum dot (QD) displays in order to dominate the next-generation premium TV market in advance, the government plans to support the plan.
Samsung Display unveiled the plan on Thursday at an investment agreement ceremony at its factory in Asan, South Chungcheong Province. It said it will invest a total of 13.1 trillion won (US$10.9 billion) on facilities and research and development (R&D) to produce more advanced display screens 2025.
Samsung is planning to convert its current LCD line into a QD-based display panels to target the large display market. The tech firm plans to invest 13.1 trillion won in establishing the world's first production line for QD-based display panels in its Asan 1 campus over the next five years.
The new 8.5-generation QD lines will produce 30,000 units of large-size QD display panels of 65 inches or more from 2021. The company will gradually convert its 8-generation LCD lines into QD lines, and expand production capacity by 2025.
In order to accelerate the commercialization of new QD technologies, Samsung will relocate the current LCD business workforce to the new QD sector and hire new employees specialized in QD materials and process technology. In order to prevent leakage of new technologies overseas, the tech firm will strengthen cooperation with domestic suppliers of display materials, parts and equipment, from the beginning of the project while establishing a display research center along with domestic universities.
President Moon Jae-in and other high-ranking government officials, such as Deputy Prime Minister and Minister of Economy and Finance Hong Nam-ki, Minister of Trade, Industry and Energy Sung Yoon-mo, attended the ceremony to add weight to the Samsung massive investment in developing next-generation displays.
"Today's new investment deal will be a starting point for keeping the competitiveness of the world's number one display manufacturer and securing self-reliance in the production of key parts and materials for South Korea to become an undisputed power house in the display market," Moon said. "The government supports Samsung Display's bold decision and will join efforts through innovation in the display industry."
"On the basis of the world's No. 1 OLED competitiveness, we should also take the lead in the next-generation display market," the president said. "The government will invest 400 billion won into the new-generation display sector over the coming seven years."