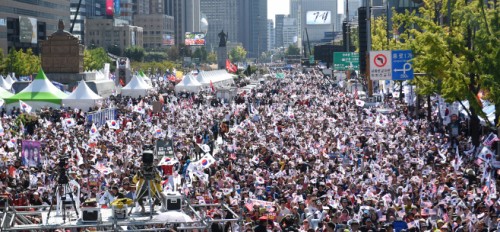 A massive rally was held in central Seoul on Oct. 9, 2019, to call for the resignation of President Moon Jae-in and withdrawal of Justice Minister Cho Kuk./ Photographed by Kim Hyun-woo
AsiaToday reporters Jo Jae-hyung & Kim Hyun-goo
Hundreds of thousands of conservative Christians, civic groups and citizens held a massive rally on Wednesday in central Seoul to call for the resignation of President Moon Jae-in and withdrawal of Justice Minister Cho Kuk. The rally organizers claimed some 2 million people gathered.
It was the second mass anti-Cho rally that conservatives have held. The first was held on the National Foundation Day holiday last week, where the organizers insisted 3 million protesters took part.
Leaders of the main opposition Liberty Korea Party (LKP), such as chairman Hwang Kyo-ah and floor leader Na Kyung-woon, also took part in the civic groups-led rally as general citizens. It seems they did not organize a party-level rally considering that a massive outdoor struggle during the parliamentary audit could spark public criticism.
The conservative group, which calls itself the Pan-National Alliance for Moon Jae-in's Resignation, began its second outdoor rally against Moon and Cho at the Gwanghwamun square at 1 p.m., claiming a crowd of 2 million. It was launched by Jeon Gwang-hoon, a pastor and the chairman of the Christian Council of Korea, and Lee Jae-oh, an adviser of the LKP.
After the rally, Hwang told reporters that public anger is heading toward the Moon Jae-in administration. "Taking the people's anger lightly will eventually lead to a ruined country," Hwang said.
"Many people are angry at the recent series of unrighteous, senseless, and irrational events," Na said. "This anger will save the country."
"President Moon Jae-in should wake up and assume responsibility for appointing Cho Kuk and ruining the country," LKP lawmaker Shim Jae-chul said. Then he called for the ouster of the president for dividing the people and bringing economic failure. "We should gather strength in order to beat a socialist government," LKP lawmaker Kim Jin-tae said. "We should call today's rally as the October struggle."
"We must set up a crumbling Korea and eradicate national liberalists," Jeon said. "If Moon Jae-in does not change, he must be pulled out," he said. The protesters departed from Gwanghamun square and marched towards Cheong Wa Dae.
In an apparent countermove, a rally in support of Cho was held in Yeouido. Some 3,000 people showed up to express support for Cho and his push to reform the prosecution.
Cheong Wa Dae remained silent over the protests.