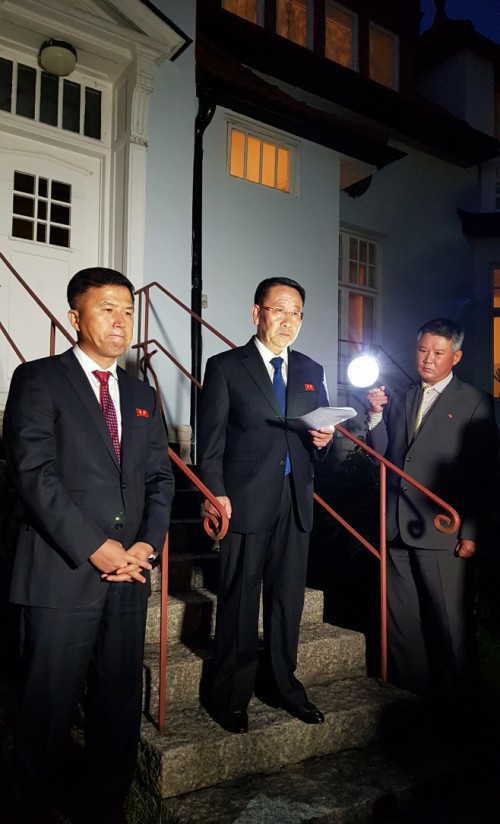 The U.S. State Department said that it brought creative ideas and introduced new plans to advance the four pillars of the Singapore joint statement in contrast to North Korea's claim that the working-level nuclear negotiations between the two sides in Stockholm have broken down. The photo shows North Korea's chief nuclear negotiator Kim Myong-gil, reading statement outside the North Korean Embassy in Stockholm, Sweden, Saturday, Oct. 5, 2019./ Source: Yonhap News
By Washington correspondent Ha Man-joo
The much-anticipated working-level nuclear negotiations between North Korea and the United States, which had been resumed in about seven months, broke down Saturday. Pyongyang accused Washington of coming to the talks "empty handed." In contrast, Washington said it brought creative ideas and introduced new plans to advance the four pillars of the Singapore joint statement.
"The negotiation did not live up to our expectations and broke down," the chief North Korean negotiator, Kim Myong-gil, said in front of the North's Embassy in Stockholm after holding talks with his U.S. counterpart Stephen Biegun. The United States had "not discarded its old stance and attitude," according to the North Korean negotiator. "While having so far hinted at a flexible approach, new method and creation solution, the U.S. has heightened expectations. But it came out with nothing," he said. "We have already explained clearly to the U.S. what calculation method was needed and given it sufficient time, but the U.S. came to the negotiations empty-handed and this shows it is not willing to solve the issue," he added.
In response, U.S. State Department spokeswoman Morgan Ortagus said that Kim's comments did "not reflect the content or the spirit of the eight-and-a-half hour discussion." She insisted that the United States brought "creative ideas" and had "good discussions" with its North Korean counterparts.
The statement said discussions focused on the four pillars discussed in the joint statement agreed to in Singapore by the U.S. and North Korea, which included establishing new US-North Korea relations, building a lasting and stable peace regime on the Korean Peninsula, denuclearizing the Korean Peninsula and recovering missing U.S. service members' remains.
Regarding the "new calculation method" that North Korea demands, Kim said the United States should take steps to completely remove all the obstacles that threaten North Korea's safety and check its development without a shadow of doubt. His remarks suggest that the United States should take detailed steps by guarantying North Korean regime and lifting its sanctions against Pyongyang.
"As we judged that the U.S. was not really ready for negotiations with us, we called for suspending the negotiations and urged the U.S. to deliberate until the end of the year," Kim said. On the other hand, Ortagus said that at the end of the meeting, the U.S. proposed accepting Sweden's invitation to return to Stockholm in two weeks time to continue discussions. The U.S. accepted that invitation, she said.
The denuclearization talks are likely to come to a deadlock once again as the U.S. said that the negotiations would be resumed within two weeks while North Korea offered to resume the talks at the end of the year.