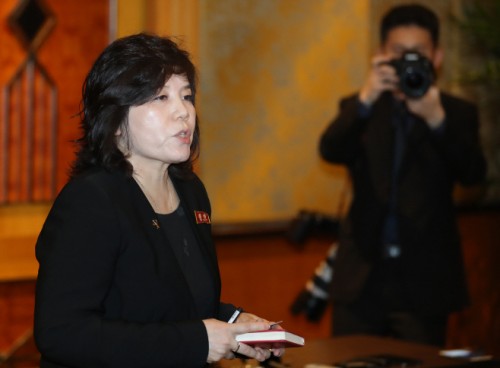 North Korean First Vice Foreign Minister Choe Son Hui/ Source: Yonhap News
By AsiaToday reporter Lee Jang-won
North Korea announced Tuesday that Pyongyang-Washington dialogue on denuclearization will resume on Oct. 4.
"North Korea and the United States will have a preliminary contact on Oct. 4 before holding working-level talks on Oct. 5," North Korean First Vice Foreign Minister Choe Son Hui said in a statement carried by the North's official Korean Central News Agency (KCNA).
"Our representatives are ready to engage in North Korea-US working-level talks," she said. "I hope that positive improvements in North Korea-US relations will be accelerated through this working-level talks."
However, Choe did not say where preliminary contacts and working-level talks would take place.
Last month, Choe said that North Korea was willing to sit "face-to-face" with the United States at an agreed time and place around late September.
Many observers said that it would take more time to resume working-level negotiations as U.S. Secretary of State Mike Pompeo revealed at the end of last month that the United States has not been able to arrange working-level meetings with North Korea. However, it seems there was a considerable level of coordination between the two sides considering the North's announcement.