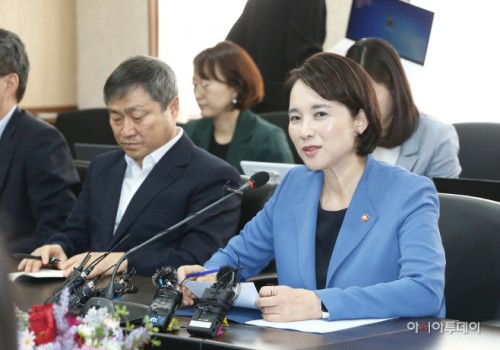 Education Minister Yoo Eun-hae speaks at the National Assembly on Sept. 26, 2019./ Source: The Ministry of Education
By AsiaToday reporter Kim Beom-joo
The Ministry of Education said Thursday it would inspect 13 universities nationwide that have high percentages of the "hakjong" admissions and high numbers of students from special-purpose or autonomous high schools. Under the hakjong system, many students enter college through an evaluation of their extracurricular activities and school grades, in contrast to the "suneung" system where students take a national entrance exam on one single day.
The ministry is planning to improve fairness and transparency of the college admission system by reviewing all the possible measures, including a revocation of assessing extracurricular activities as part of admissions policy.
The move comes in the wake of academic impropriety allegations against Justice Minister Cho Kuk's daughter. Attention is being drawn to whether a debate on the education system's fairness will lead to reform of the general college admission system.
The ministry made the announcement following a meeting between government and party officials in Seoul.
The fact-finding survey will be conducted on 13 universities, including Konkuk University, Kwangwoon University, Kyung Hee University, Korea University, Dongguk University, Sogang University, Seoul National University, Sungkyunkwan University, Yonsei University, Pohang University of Science and Technology, Chuncheon National University of Education, Korea National University of Education, and Hongik University.
The government plans to grasp the operation status of the hakjong system and reflect the result in the detailed plan, which will be announced in November.
The ministry plans to immediately switch to a special inspection if it finds any of those universities violated the basis of college admissions and related laws, or receives a report with enough circumstantial evidence through the College Admissions Corruption Reporting Center.
The Special Inspection Team will be operated as a general inspection team of various related ministries such as the Ministry of Education and the Board of Inspection.
The government plans to drastically enhance the special college admissions system so influential and wealthy parents will not be able to utilize their connections and ability for the children's admission into university.
In addition, the education ministry will continue its inspection on 16 major universities, which have not received a comprehensive inspection, as planned. The inspection on Hongik University, which begins next month, will not only audit the corporation, personnel and recruitment, property and accounting, facilities and supplies, but also the general college admissions.
Meanwhile, the ruling Democratic Party (DP) launched the Educational Fairness Enforcement Committee aimed at reforming the unfair social and education system.