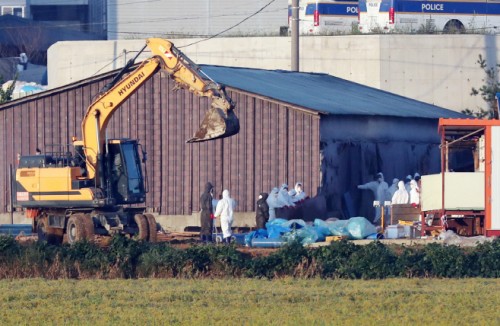 Quarantine officials cull pigs at a farm in Gimpo, Gyeonggi Province, Tuesday, after the third case of African swine fever was confirmed a day earlier./ Source: Yonhap News
By AsiaToday reporter Cho Sang-eun
Quarantine authorities are keeping a close watch on the test results as three more suspected cases of African swine fever (ASF) were reported Wednesday.
Two suspected cases were reported at farms in Ganghwa County in Incheon, west of Seoul, and the other came from Yeoncheon in Gyeonggi Province, according to the Ministry of Agriculture, Food and Rural Affairs.
In the case of the farm in Bureun-myeon town in Ganghwa County, its farm owner reported sickness and unnatural death among their livestock to the quarantine authorities on Wednesday morning.
The suspected farm is 6.6 kilometers away from the farm in Gimpo, where the fourth case of the fever was confirmed, and 8.3 kilometers away from the farm where the fifth case was confirmed.
In the case of the farm in Yangdo-myeon town in Ganghwa County, Incheon city found the suspected case. In the case of the farm in Yeoncheon, its farm owner reported the case. The quarantine officials are conducting a test of the samples from these farms.
If all the suspected cases test positive for the fever, the country will have a total of eight confirmed ASF cases since the first-ever confirmed ASF case on Sept. 17.
The agriculture ministry has been going all-out to prevent the further spread of the highly contagious disease.
"We must take preemptive action immediately," Agriculture Minister Kim Hyun-soo said. "We should have a protection framework that goes beyond the existing framework and manual."
In this regard, under restriction are now the entire provinces of Gyeonggi and Gangwon as well as the city of Incheon.
The agriculture ministry, which issued a 48-hour movement ban Tuesday on all pig farms and feed factories across the country, began its inspection and sterilization on pig farms and livestock-related facilities in 154 cities and counties.
In addition, the quarantine officials plan to carry out intensive disinfection and check river basins and roads near the border areas.
Meanwhile, the ministry said it has completed culling 20,172 pigs as of September 24 at 11:00 pm, with more than 30,000 pigs set to be slaughtered.