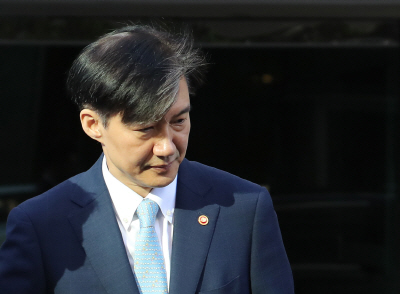 Justice Minister Cho Kuk is on his way to work from his residence in Bangbae-dong, Seoul, on Sept. 23.
By AsiaToday reporters Lee Wook-jae
The prosecution raided Justice Minister Cho Kuk's home on Monday as part of its widening probe into corruption allegations involving his family. This is the first time that the residence of an incumbent justice minister has been raided by prosecutors. It seems the prosecution's investigation is directly aimed at Cho and his wife.
The Seoul Central District Prosecutors' Office sent investigators to Cho's home in Bangbae-dong, Seoul, at around 9 a.m. to secure computer hard disks and other materials related to allegations surrounding rigging of school application materials.
Last month, the prosecution had carried out their massive raids at 20 places nationwide involved in the scandal. Afterwards, prosecutors additionally had raided the residences of Cho's relatives but had not raided the justice minister's residence.
However, the prosecution received two hard disks from Cho's wife's asset manager, surnamed Kim. After the investigation, Cho's wife Chung Kyung-shim had asked Kim to swap out the hard disks of the family's home computer, and Cho Kuk was reportedly present by then.
The hard disks that had not been swapped out were reportedly at Cho's residence. It seems the prosecution carried out a mandatory investigation to secure the hard disks.
On the previously-obtained hard disks, the prosecution apparently found digital copies of internship certificates from Seoul National University's (SNU) Public Interests and Human Rights Law Center issued to Cho's daughter and a son of Dankook University's School of Medicine professor Chang Young-pyo.
Cho's daughter was named the lead author in a medical paper after she took part in an internship program under professor Chang in 2007. Later, Cho's daughter and Chang's son interned together at the SNU Center. At the time, however, Cho was one of the professors participating in the SNU Center, raising suspicions that Cho and other professors might have been involved in the internship program for their children.
The justice minister denied the allegations on his way to work. "The media reports that I forged the SNU center internship certificates are extremely malicious," Cho said. "I will seriously consider taking legal action." However, prosecutors plan to look into Cho's suspected involvement in the internship program and alleged attempts to replace the hard disks.
The prosecution also raided law schools at Ajou University and Chungbuk National University, as well as Yonsei University and Ewha Womans University for admissions documents submitted by both the minister's daughter and son.