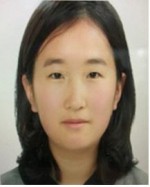 Intern reporter Jo Joo-hee (Freshman year of Loyola University Chicago, Department of Philosophy
"I purple you!" V, one of the members of the Bulletproof Boys (BTS) created this phrase. Purple became a new word meaning trust, love, and loyalty. We can see BTS has become very influential not just to the ARMY, but to the world. I had never encountered BTS until I accidentally watched the "Blood, Sweat, and Tears" music video on Youtube. Honestly, I had prejudice towards them because I did not like K-pop music. However, I was amazed at their choreography, symbols, and lyrics. I immediately shouted out: this is art! BTS broke my prejudice and society's prejudice towards music. I started to realize many Korean people do have feelings of prejudice towards idols. It seems that music separate people between age and social class in Korea. I think the social hierarchy in music causes separation between people culturally based upon their societal expectations in both class and age. However, BTS's music unites everyone, and it breaks the social prejudice of age and class of music in Korea.
On June 1, 2019, BTS makes another history in Wembley Stadium. One piece of music they performed was "Dionysus". I realized that BTS breaks the societal norm towards them especially about prejudice towards the idol. They performed their art and their philosophy of "Dionysus". The meaning of "Dionysus" is that their music is art. In Korean society, an "Idol" has been regarded as an entertainer for people. The Korean society believes that Idols have no artistry and it is just entertainment music.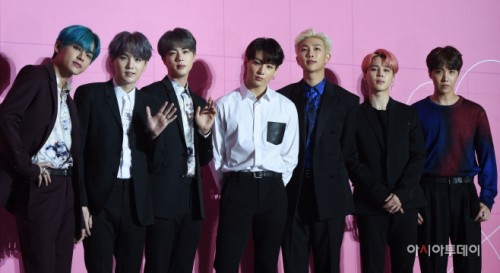 BTS held a global press conference for their new album 'MAP OF THE SOUL : PERSONA' at Dongdaemun Design Plaza (DDP) in Seoul on April 17, 2019./ Photographed by Jung Jae-hoon
However, BTS's proudly speaks their identity as an idol and their love for their art. In the part of Suga, "Dionysus" of the BTS, "Kpop idol born and reincarnated artist" mentioned this social point of view. He then repeated the "reincarnated artist" twice, expressing himself as an idol and an artist. Suga picked up the negative viewpoint of an idol in society and expressed their music as art: "What matters idol or artist, art is so much that it is overblown yeah". The social class based on art and culture is very difficult to overcome. Culture and art represent the identity of the listeners, and people do not like to feel left out of society. BTS has surpassed that limit and has thrown the old artistic standards in the garbage. They show the world their art and their music truly communicates with people even with language barriers and social norms.
The art of communication in BTS allows everyone to be united. BTS's music creates empathy with the listeners and the music which breaks the societal norms in art. In Korea when people listen to classical music, people automatically think about the high or educated class. For example, those norms are shown through movies or dramas. "SKY CASTLE", a popular Korean drama, in the first episode people are wearing a formal dress with classical music played in the background. Another movie like "Mother" in the first scene Dojun's mom, who is wearing dull clothes, dance with the trot song in the background. Also, most people used to make assumptions with ages that K-pop is mostly for teens, and trots are for a generation that is older and working class. In Korea, music is a frame of the societal norm that separates people depending on individual's societal expectation. However, BTS's music unites people no matter their social income class, age differences, and ethnicity. BTS's music is not designed to observe, but to create a strong bond with the audience and BTS.
For example, in "Mikrokosmos" shows the importance of communication of oneself and as an art that communicates with the listeners. The lyric is based on the respect of individual self, and the beauty inside those differences. BTS' music is popular because of communication inside the music. The music communicates with the listeners through the meaning of the lyrics that allow the listeners and BTS to empathize inside the music. BTS shares the story about everyday struggle about an individual's identity. Although people feel society fixated individuals to a specific position, BTS communicate listeners through sharing their emotion towards that situation. As I mentioned before, Korea has a cultural social class based on each individual acceptance limit of culture. Therefore, BTS' music is considered a revolutionary art that shares a special relationship with the listeners and BTS. BTS' music is a new type of art that is 'with' and 'for' everyone. Therefore, BTS' music creates a union with different age, ethnicity, and social class.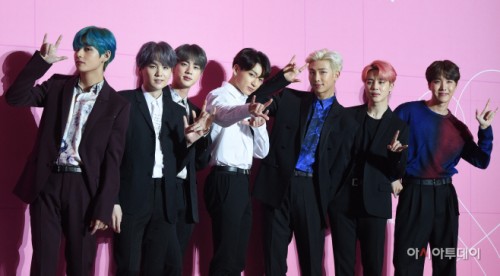 BTS held a global press conference for their new album 'MAP OF THE SOUL : PERSONA' at Dongdaemun Design Plaza (DDP) in Seoul on April 17, 2019./ Photographed by Jung Jae-hoon
BTS has created music that represents the current society that values communication. Right now people are living in constant communication through social media. However, many who feel they do not reach the social standard are afraid to communicate with others. The album Map of the Soul: Persona creates empathy to the audience and BTS about how to accept ourselves and the persona. One part from Jung's Map of the Soul: An Introduction by Murrey Stein shows that people create a persona to fit inside society. People are afraid about the fact that people live in a way society disapproves, they are excluded from society. BTS know how society views them. They know people are afraid of being excluded and have a desire to be a part of society. BTS still shares their feelings of exclusion before they were famous. Therefore, they can empathize with the people who feel alone without communication with others. BTS' music does not show the way, but it communicates and empathizes with the listeners.
However, there is still prejudice in our social perspective. And such prejudices may make Korea's society more hierarchically. However, there has been art like BTS values the communication and empathy of the individuals. I think the music of BTS shows the beauty of humanity and heal people who feel left alone in society. May 22, 2019, the Empire State Building turn the light purple. I hope the world will speak everyone "I purple you!".